Upcoming signing: Harrisburg Sports Card Show
Posted On February 14, 2016
Brett will be signing autographs at the Harrisburg Sports Card Show on February 27!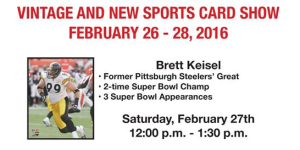 Details:
Where: Colonial Park Mall: 4600 Jonestown Rd, Harrisburg, Pennsylvania 17109
Time: 12:00 p.m. – 1:30 p.m.
Tickets: Autograph tickets will be available for all the players at the show during mall hours starting Friday, the 26th.
Advance tickets: Available by mail:
Send check or money order, with a self-addressed, stamped envelope, made payable to Carl Hisiro.
 Mail to: Carl Hisiro
108 Nicolas Court
Harrisburg, PA 17110
Prices:
$65 for flats and minis
$75 for footballs, F/S helmets, jerseys and original art
$20 inscriptions- (personalizations are not extra)
For more information or questions and to see who else will be signing, please visit the Harrisburg Sports Card Show Facebook Page.