Big win for BYU!
Posted On September 13, 2015
Boise State 24, BYU 35

So much fun being back at LES again after 14 years. Way to fight till the end @BYUfootball! #GoCougs! — Brett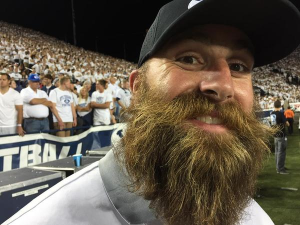 Photo: Ralph Zobell
BYU pulled off the big win for a second straight week, defeating 20th ranked Boise State last night.
From Chantel Jennings, ESPN:
Tanner Mangum, the kid who came in for BYU quarterback Taysom Hill and had turned into a star overnight with one Hail Mary against Nebraska, is now on his way to becoming a folk hero with his second Hail Mary in a second consecutive weekend.
His deep bomb on fourth-and-7 with a subsequent PAT gave BYU a four-point margin over No. 20 Boise State, and Kai Nacua's 50-yard pick-six on the next Broncos' offensive play sealed the deal for BYU, 35-24.
Brett attended the game where he spoke to the Cougar Club before the game and he held an autograph signing during a pre-game tailgate. Fans were lined up for miles! He also was the Alumni Flag Bearer.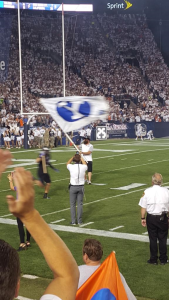 Photo: Shakavaka
Great to have Brett Keisel run out the flag  tonight! Love that dudes energy! #GoCougs – Bronco Mendenhall, BYU Head Coach
BYU fans were thrilled by this:
Brett Keisel is a hero. Just took the Alumni flag, posted himself right in front of the Boise tunnel and screamed at 'em coming out. #Legend – P.Norton
Getting the big 'W':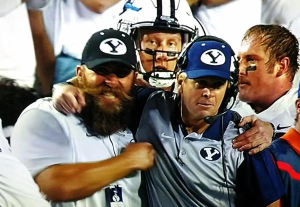 Beard Karma…
Yes Please!
Brett Keisel bringing the #FearTheBeard karma back to LaVell Edwards Stadium. #GoCougs –Rich Nielsen
Before you ask…yep, we have lots of great photos! They will be posted soon.
Way to go Cougars!