Thank you Brett!
Posted On June 3, 2016
Recently, Brett attended a special ceremony at Children's Hospital. He was honored to pass medals to the champions and to meet all of the faces of Children's Hospital.
Following the medal ceremony, we started receiving letters from the parents of the children Brett met and we would like to share some special messages to Da Beard…
The amazing faces of Children's Hospital: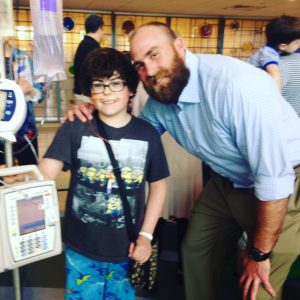 Meet 14 year-old Dawson…
Dawson is a super die hard Steelers fan!! His biggest dream is to go to a game.
Dawson loves Star Wars and building Legos, Harry Potter (he hopes to make it to Disney World to see Hogwarts) his favorite pastime is reading anything by Rick Riordan …he is super excited he just came out with two new series!
He wants to do hunter safety and go hunting now that he can be outside!
Dawson has a mitochondrial disease that is a genetic disease that causes a mutation in his DNA. He is the first person with his specific mutation. There is no cure and in his case no treatment. It causes havoc on the body and causes many more medical problems. Such as Dawson has severe asthma and allergies to the environment, he has type one diabetes, seizure disorder, severe reflux, gastrointestinal dismotility, ankylosing spondylitis and at the present intestinal bleeding and inflammation which is why we are here at the hospital this time! He is so tough he always has been!
He has been sick since the day he was born and we were told he wouldn't be here but he is! He has been out of his wheelchair for three years! He is also able to go to public school which wasn't always possible with his suppressed immune system he was constantly battling serious infection and with the mitochondrial disease that makes him susceptible to coma.
He teaches me everyday what it means to be strong, brave, courageous, and have insurmountable faith! He has a goal to find cures for the many problems he has and has such compassion for the other children suffering so that he never feels sorry for himself and is always thinking of others! I am truly blessed that God chose me to be his mom!!
What Brett did today put a smile on Dawson's face and hope and warmth in his heart!! How blessed we were to be part of that experience!
 Brett talked to him like he mattered and gave him kind words and motivation to keep going! When they were forehead to forehead this momma lost it!! Thanks for making My Dawson feel special! You are an amazing person! – Stephanie Thomas, Dawson's mother.
Thank you to Stephanie for sharing this with us!
And, Dawson…May the Force Be With You! Steeler Nation is thinking of you and wishing you well!
We will have more messages to come!