They won and they are in!
Posted On December 22, 2014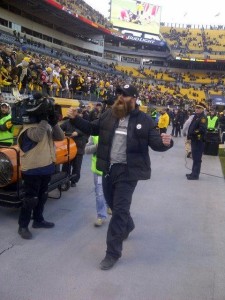 From Ed Bouchette, Pittsburgh Post Gazette:
After missing out the past two seasons, the Steelers clinched a playoff spot today by defeating the Kansas City Chiefs 20-12 at Heinz Field.
Le'Veon Bell ran for a 1-yard touchdown, Ben Roethlisberger threw a 3-yard touchdown pass to Antonio Brown and Shaun Suisham kicked two field goals on a day that otherwise belonged to the Steelers defense.
That defense came up with a turnover and a fourth-down stop to prevent two likely scores by Kansas City, which managed only four field goals on the day. They also sacked quarterback Alex Smith six times.
The Steelers' third-straight win lifted them to 10-5 and at least a wildcard playoff spot. They will win the AFC North Division if they beat Cincinnati at Heinz Field next Sunday.
Congratulations to James Harrison for being selected as Steelers Digest Player of the Week.
What does Steeler Nation want for Christmas?
A playoff berth: √
A selfie with Da Beard: √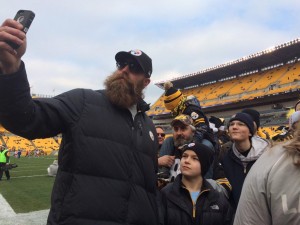 Teresa Varley (@Teresa_Varley) captured a great moment of Da Beard taking a selfie with fans.
View more photos of Da Beard hangin' with Steeler Nation HERE.