Steeler Nation Spotlight: Joey Gotowski
Posted On September 19, 2014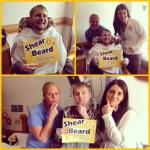 Joey Gotowski is dealing with more than most of us can imagine. Joey has been a patient at Children's Hospital of Pittsburgh most of his life. He was diagnosed with Hirschsprung's disease, which required an intestinal transplant. This led to Non-Hodgkin lymphoma.
Joey's original transplant rejected, so he is awaiting a new intenstinal transplant.
He was at Children's Hospital recently for a surgery and realized he would need to shave his beard prior to the procedure. It was then that he thought of Brett shearing his beard, and he decided to follow suit.
The crew at Children's sent us a photo of Joey and his Shear Da Beard event. Brett was touched and wanted to meet Joey.
He reached out to Joey and was able to meet up with him last week.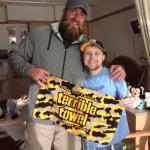 Joey: "I can't thank him enough. He's a really nice guy and I'm so glad that he came and visited me."
From Joey's Twitter page: "Had a great day talking with Brett Keisel of the Pittsburgh Steelers about my own personal struggles and "Shear Da Beard". Amazing man. (@JoeyGotowski).
Brett's response:  "It was a pleasure getting to meet you. You are an inspiration! Keep fighting my friend."
Brett told the WDVE crew that after visiting Joey, his stomach always hurts from laughing so hard with him.
We wish Joey all the best in his fight! Stay strong and thank you for being such an inspiration to others!
Brett was a call-in guest today for The 2014 DVE rocks for Children's Radiothon. He challenged listeners to donate $10.00 a month to become ROCK STARS for Children's Hospital. In under 10 minutes 100 listeners accepted the challenge and became Rock Stars!
You can donate HERE.