A Public Act of Grooming
Posted On February 4, 2016
Brett joined KDKA's Ken Rice to discuss Shear Da Beard 2016.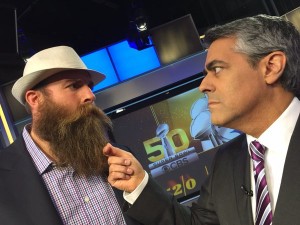 There's a little bit less beard on Brett Keisel after this encounter. A local newsman's moment of courage.  – Ken Rice
 A special event next week will bring out a lot of Steelers past and present – and you are invited, too. It's a rather curious, but always-packed annual gathering.
It is a public act of grooming.
The hair-lowering ritual known as "Shear Da Beard" is now in its sixth year. Retired Steelers defensive lineman Brett Keisel – the creature who gives life to the "Da Beard" – reluctantly sacrifices his glorious facial hair each winter. Reluctantly, because he knows how good it looks.
"I really like the way I look with the beard," says Keisel. "I enjoy it. In fact, when it goes, I'm a little sad."
Read more and watch what happens when Ken Rice extracts more of Da Beard than Brett allows HERE.