More from the big win…
Posted On October 27, 2014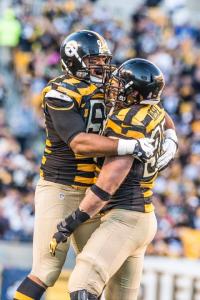 Steelers, 51, Colts 34
Notes from the media:
From Gerry Dulac, Pittsburgh Post Gazette:
Defensive line
Andrew Luck was sacked only two times in 45 attempts, but that does not begin to indicate how much pressure the Steelers generated on the pocket. Cam Heyward had two sacks negated by penalty and Brett Keisel continues to collapse the pocket like the old days. The Colts didn't run a lot (10 carries for 63 yards), but they averaged 6.3 yards per carry because Luck scrambled three times for 26 yards.
From Jim Wexell:
Brett Keisel looks like he has another year in him. At least.
(Yep, I totally agree).
From Post Gazette Sports:
Brett Keisel's beard was front and center in the Steelers win.
Keisel talks Ben Roethlisberger and Andrew Luck:
"I don't know anyone who's more competitive than [No.] 7," Steelers defensive end Brett Keisel said, "and I've met a lot of dudes that have played in this league, and I've never met anyone who wants to win more than him."
Keisel is one of Roethlisberger's closest friends on the Steelers and has seen that competitive side everywhere from a football field to a fishing hole.
That is why it didn't surprise him Roethlisberger outplayed Luck.
Keisel, though, had such respect for Luck — and the way he kept getting up after being knocked down like a bowling pin — that he made a point to seek out the third-year man after the game and compliment him.
Keisel gushed about Luck in the Steelers' locker room.
But he also added: "I say all of that about Andrew, but Ben was the top dog, no doubt. He stood in the pocket, made big throws, big plays, flipped the field. It was amazing watching Ben." (From Scott Brown, ESPN.com).
Watch Brett's post game interview HERE.
View game photos HERE.
And, Brett joined the crew at 90.5 WESA:
With his Grizzly Adams beard, Steelers defensive end Brett Keisel is one of the most recognizable athletes in Pittsburgh. But now in his 13th season, and having reached the age of 36, Keisel knows the end of his playing career is near. He joins us to talk about football, hunting and raising money for the Children's Hospital of Pittsburgh.
Brett discusses why he returned to the team, and about how well Coach Tomlin and the trainers take care of him.
Listen HERE.