Shear Da Beard…Part 6
Posted On January 7, 2016
Yes…it's that time of year again. Da Beard's days are numbered!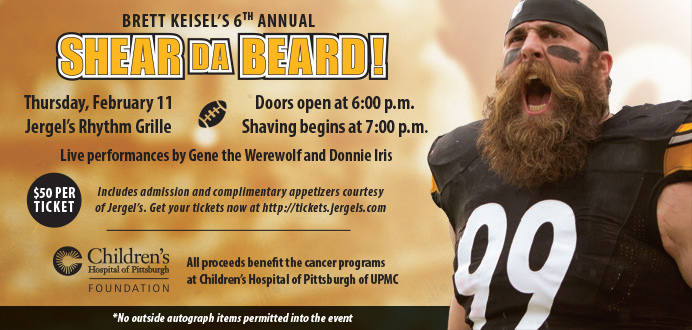 Hurry, get your tickets and come party with me. – Da Beard
Da Beard will once again be sheared to benefit cancer programs at Children's Hospital of Pittsburgh UPMC.
Event information:
Date: February 11, 2016
Location: Jergel's Rhythm Grille
Time: Doors open at 6:00 p.m. Shearing to commence at 7:00 p.m.
Tickets: Purchase tickets HERE. They will be available after 9:00 am (ET) on January 7.
Don't wait too long…tickets sell out fast.
Entertainment: Live performances from Gene the Werewolf and Donnie Iris! And, we may be able to coax Brett into playing his guitar for a bit.
Tickets are $50, and include admission to the one-of-a-kind event and complimentary appetizers… courtesy of Jergel's.
There will also be surprise celebrity barbers appearing at SHEAR DA BEARD! Previous celebrity barbers have included, Heath Miller, Dick LeBeau, Art Rooney II, Cam Heyward, Ben Roethlisberger, Aaron Smith and more!
You won't want to miss this awesome chance to be up close with Keisel (and Da Beard), the GREAT cast of celebrity barbers, delicious food, incredible entertainment … and of course… the chance to witness …THE SHEARING OF DA BEARD!
No outside autograph items permitted into the event.