Podcasts and photos….oh my
Posted On February 4, 2016
Brett made the rounds as Head & Shoulders official hair correspondent at SB 50 Media Week.
If you missed his interviews and photos, don't worry! We got yinz covered.
SB 50 Opening Night:
Russillo and Kanell:
Coach and Bretos fill in for the guys and discuss what is next for the Browns and Johnny Manziel. Guests include Ryan Clark, Brett Keisel and Aaron Goldhammer.
Listen HERE.
Brett comes in at about 33:43.
He talks SB 50, beards, Shear Da Beard and Head & Shoulders!
GUESS THAT BEARD! We put former #Steelers DE Brett Keisel and his beard to the test. #SB50https://t.co/Kf4rVpasDE

— FOX College Hoops (@CBBonFOX) February 2, 2016
Brett plays "Guess that Beard"
Hey, he got his OWN beard right!
Making the rounds: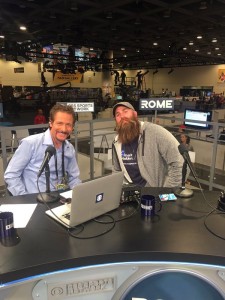 Brett joined Jim Rome to discuss the Carolina Panthers great beard game, SB XLIII, his fumble recovery (yes, he still has the ball) and he announces he will always be a Steeler.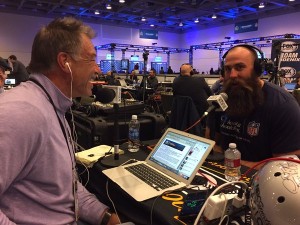 He caught up with former Steeler, Mark Malone on Under Center with MM.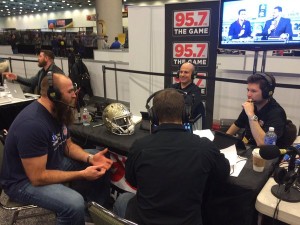 95.7 The Game's Haberman and Middlekauff described Da Beard as "one of the best beard around"…
(We know he IS the best beard around).
Head & Shoulders names @Panthers "best bearded team." – WATCH interview with coach Ron Rivera pic.twitter.com/cE09xQN76s

— NBC Bay Area (@nbcbayarea) February 2, 2016
Brett talks with Panthers coach, Ron Rivera and proclaims the Panthers as the best bearded team.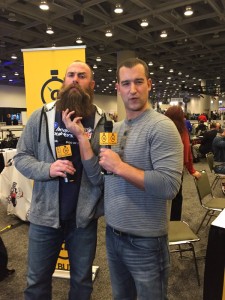 Andy Nesbitt, host of The Buzzer on Fox says this was a moment he will remember forever.
Rob Guerrera, Pro Football Talk felt the he needed a second seat on the seat to accommodate Da Beard.
From the interview: Man, these quarterbacks play until they are 100!"- Keisel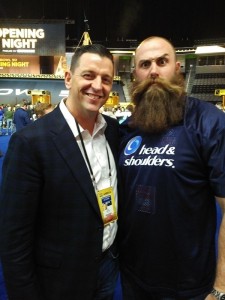 Brett caught up with former teammate, Mitch Berger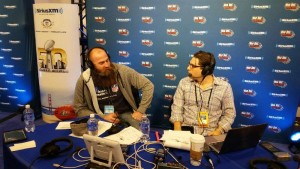 And, with the crew at Sirius XM Radio