Fans of all ages enjoyed The Great Outdoor Show 2018
Posted On February 12, 2018
Thanks to The Great American Outdoor Show and Field & Stream for such a fun time with Da Fans! Get outside and enjoy our great outdoors people! – Da Beard
We heard from more fans who had a great time meeting up with Da Beard this weekend:
Getting excused from school to meet your favorite player = Priceless….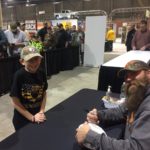 When our son found out his favorite player was coming to the Outdoors Show, he insisted we come. It was a no-brainer for us since my hubby is also a huge fan!
And it was easy getting excused from school since his teacher is a fan too!! 
 Thank you to Brett, you (the police guarding him who allowed me to grab a pic of them since I was outside the line) and everyone who made this boys dream come true…and to top it off, you gave him a shout out on FB…twice!!
What an honor! Thanks again for a great day!! It was totally worth the long drive.   –Jennifer 
It was AWESOME MEETING YOU Brett Keisel!! Me, my husband, Tony Kopko and our son there enjoyed it immensely!! Been Steelers and a Keisel fan since we were young both me and the Hubby and our Son is born into it!!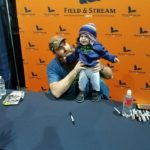 Our son from your words "He's like a football" !!! – Erin Kopko 
My 5 year old was very excited to meet Brett Keisel yesterday! – Ashley Winger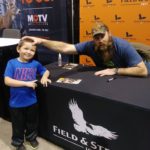 Bearded Brothers! – Eric Y.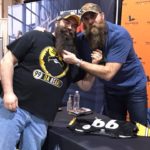 View more photos from the event.