On this day in 2010…
Posted On September 26, 2015
Da Beard takes it to Da House!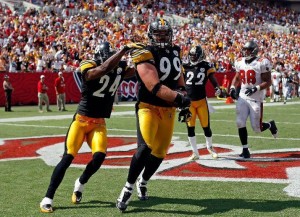 Steelers 38, Buccaneers 13
It was another big game for #99 today! Brett had his first interception for a touchdown as the Steelers beat Tampa Bay 38-13.
Watch video with commentary of the play HERE.
While this was not Brett's very first touchdown, it was his first touchdown in a very long time…
From Ron Cook, Pittsburgh Post Gazette:
Long ago in a far off place, little Brett Keisel scored a touchdown.
OK, so maybe Keisel never was little. But we are talking 14 years and 60 pounds ago. It was the 1996 football season, and Keisel was a senior at Greybull High School.
That's Greybull, Wyo., a really far off place I think you will agree.
"I wore No. 4," Keisel recalled Sunday. "We lost a playoff game to Lusk High that year, but I caught a touchdown pass."
Keisel was a 225-pound tight end/middle linebacker back then. Today, he's a 285-pound defensive end for the Steelers with the same number of touchdowns this season as future Hall of Famer Hines Ward and one more than Pro Bowl tight end Heath Miller.
Yes, all these years later, Keisel will tell you there's still no place like the end zone.
This time, Keisel's hands didn't fail him. Nine seasons in the NFL and this was his first interception. Only a week earlier in Tennessee, after Steelers linebacker LaMarr Woodley rattled Titans quarterback Kerry Collins and forced a fumble, Keisel had a chance to catch the ball out of the air but dropped it.
"Ah, I did that for [nose tackle Chris Hoke]," Keisel said. "He's been in the league 10 years and never had a fumble recovery. I wanted him to get one."
That's Keisel's story, and he's sticking to it.
"They might need to use me as a tight end a little bit," Keisel said, playfully.
I'm thinking Miller isn't too concerned.
The football.
"Yeah, I'm keeping it," he said. "I'll probably put it next to my Super Bowl ball."
That goes back to Super Bowl XLIII. Keisel recovered a fumble by Cardinals quarterback Kurt Warner after a Woodley sack in the final seconds, effectively ending the Steelers' 27-23 win and their sixth Super Bowl title.
"Woodley still wants that ball," Keisel said. "If I ever let him get his hands on it, I'll never see it again. He's not getting it."
Now there's a story you can be sure Keisel will have no problem sticking to.
Read more HERE.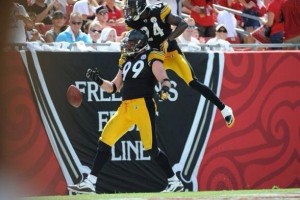 Chatter on the play:
"I didn't know what happened till I heard the roar, and everybody starting running the other way, so I just hit somebody in a white jersey and looked up and Keisel was rumbling."— James Harrison
"While Batch's performance will be the one that everyone remembers from the game against Tampa Bay, Brett Keisel's run after picking off a deflected pass may have been the most memorable play. The big man looked good running with the ball in his hands. He was patient, waited for his blocks to set up and even cut back to the middle of the field to make sure he got into the end zone."- Dale Lolley
"I had great blocking. It was a fun play. I haven't scored since I was like 18 years old, so it felt great. Last time I scored was when I was back in high school, so it feels great. I had a great convoy with great blocking. They might need to use me as a tight end a little bit."
"I thought, you got to score, you got to score, you got to score, because I knew if I didn't score I would never hear the end of it. Everyone would say he is getting old, he can't run like he used to, so it was a great feeling. Coach [Dick] LeBeau tells us all to run to the ball and I was just running to the ball and it popped up into the air and I took it to the house." – Keisel
"Defensive end Brett Keisel scored the Steelers' first defensive touchdown of the season when he made his first career interception in the third quarter and rumbled 79 yards to the same end zone where James Harrison scored his unforgettable touchdown in Super Bowl XLIII." – Scott Brown
"The play seemingly took 20 minutes. But in the end, Pittsburgh Steelers 285-pound defensive end Brett Keisel rumbled his way into the end zone for a 79-yard interception return for a touchdown against the Tampa Bay Buccaneers." – James Walker
ESPN ranked Keisel's pick 6 as #4 on their "Top 10 best plays of week 3."
Brett was selected as the AFC North High Energy Player of the Week.