"Ethan's Christmas Toy Drive 2014"
Posted On November 20, 2014
The holiday season is here and now is the best time of year to help those in need.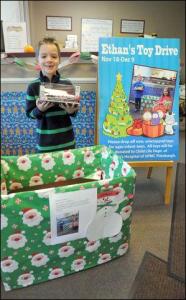 My buddy Ethan Vactor, a 7 year old first grader from Pittsburgh is working hard to collect presents for other children this holiday and has started a project called "Ethan's Christmas Toy Drive 2014".
Last year, Ethan discovered there are other kids out there that do not get presents at Christmas and that there are sick kids that spend Christmas in the hospital. Ethan and his helpers collected over 300 toys and $500 in donations for the Child Life Department at Children's Hospital last year.
This year Ethan has doubled his goal but we need help from our friends in the community. We can all be inspired by Ethan this holiday season and his desire to help other kids.
From November 15-December 10 Ethan's dad, Dr. Michael Vactor, will be collecting new toys/games for children from infancy to the age of 12 at his office in Seven Fields.
Children's Hospital will also accept denotations of checks, cash, or gift cards, in addition to toys.
The drop off or mailing address is:
Vactor Family Chiropractic
673 Castle Creek Dr. Suite 106
Seven Fields, PA 16046
Questions: Please call 724.742.2700.
 I am a proud and dedicated supporter of Children's Hospital in Pittsburgh, so thank you in advance for supporting Ethan and his cause.