Fishin' with Da Kids
Posted On March 5, 2015
We have had NUMEROUS requests to repost this awesome video of Brett fishin' with Da Kids.
Who can forget Marty and his amazing bear hug for Brett:
Hey, Brett Keisel…I got a BIG hug for you coming!!– Marty Fennell.
And, we are still receiving great comments on the event, and about Brett and the true stars…Da Kids! There are also many comments from fans of different teams!
That just made this Ravens fan a Brett Keisel fan. Not only made that little boy's day, but made my day too.— John Beyer
Thanks you for all you do Mr. Keisel. From enduring a HUGE beard all year to raise money for kids and for not just donating money. For spending time with the kids. That is what they will remember. And, thank you to Trish for keeping us "in the know" with all you do. I will admit, I didn't really know who you were before your site-and I would have hated to miss out on one of the greatest all around guys, on and off the field. — Nate Young
Brett, you are an amazing man for doing all you do. And, to those wonderful kids who joined you-stay strong! You all can teach us a thing or two. Loved, loved, loved Marty! — Stephen White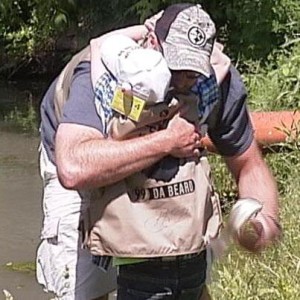 I can not get enough of this! I know Marty personally and he is one of the most amazing kids I know! He's been through so much in his life. This boy is an inspiration to us all! Thank you, Brett for taking this time out of your hectic schedule to give Marty this chance! I'm sure the next time I see him I'll definitely be hearing about this! — Jessica Smith
I may not be Steelers fan but you my friend the video I seen of you fishing with that little boy just made my day we need more folks like you thanks for a job well done! – Donald Hampton
Hats off to you! I watch your fishing video… PRICELESS!! There is nothing better than giving of one's self to another! Thank you! YOU made my day and warmed my heart!!! – Jan Taylor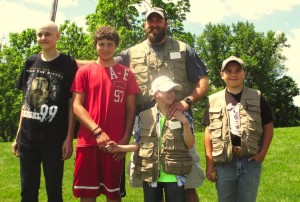 Seeing the amazing kids having such a great time with our 99-made my year. Wishing the best to every one of those kids! – Stacy Thierry 
Heck, I'm a Browns fan and I think I'm going to buy one of Bretts' jerseys! This is the side of players we need to see more often. — Mike Smith
Anyone can give money – which is a great thing and so helpful!!! But to give time to invest in someone else's life is… PRICELESS!!! Go Keisel!!! —Shannon Karcher
As a Dallas cowboys fan, I just found my new found hero of a football player. Brett Keisel you sir are a true Star in my eyes. Thanks for all you do with the children and your outstanding commitment to your community!!!! My hat is off to you!!!– James David Galbreath
Love how excited the boy gets from simply catching a fish. Maybe the world would be a lot better off if we took some lessons from these children. — Shari Buerck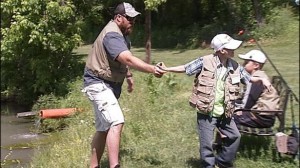 I am not a Steelers fan at all but watching what this man just did to make this child smile and laugh and have this lifelong memory was nothing short of amazing and to top it all off he gives him a hug and a kiss, 90% of the NFL would not have done what he did and for that kudos to you Brett and the Steelers organization.— Aaron Raby
Granted, this happened back in June, but this made my day. I hadn't seen it before and it just reminded me of two things. 1: I need to do more to help others. 2: Brett Keisel is the man. Doesn't hurt he's a BYU Football legend. But this has nothing to do with football. This is just a really awesome video. — John Clyde
We were not able to post all of the comments, but thank you for helping the video to go (and stay) viral for all these months. And, thank you for making stars out of the brave kids!