Keisel and Heyward 'dynamic duo' for CF
Posted On December 10, 2014
Brett hosted the annual 65 Roses Sports Auction tonight, but it was a bit different from previous years. This year he had a special co-host: friend and teammate, Cam Heyward!
The event benefits the Cystic Fibrosis Foundation.
"Cam is special to me. When my days as a Steeler are over I know it will be in good hands with Cam. Mike Schneck was the host for the event before me and he is the one that came to me. We were on special teams together and he is a great friend and asked me to take over. I am doing the same with Cam."– Keisel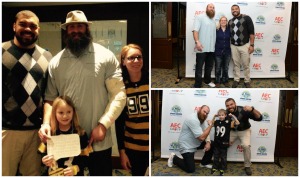 From Teresa Varley, Steelers.com:
Brett Keisel jokes that he has been in the NFL so long he can't remember how long he has been hosting the Cystic Fibrosis 65 Roses Sports Auction. But the one thing he knows for sure, it's a night he absolutely loves.
"I have been doing it for a while, and it's been great," said Keisel, who hosted the annual event on Tuesday night at the Sheraton Station Square. "What got me into it was the children I met way back when. Cystic fibrosis is a scary thing because sometimes it takes kids way too early. The research they are coming up with kids are living longer, women are able to have children. It's come a long way. It's special to me."
While the main goal of the event is always to raise funds for research in an effort to find a cure for the disease, Keisel and Heyward especially enjoyed spending time with kids that suffer from cystic fibrosis and bonding with them.
"Emma, Anthony, just to name a few are kids I have my eye on," said Keisel. "Those kids are good friends of mine. It's made the event very meaningful to me and my family. We will always continue to support them and all who suffer from cystic fibrosis.
"For us to be able to give back in a small way and do something for others who might need it, it means a lot to us."
While Keisel refers to their participation as helping in a 'small way,' those who are on the front lines of raising funds for research see the impact as huge.
"When it comes to Brett and what he means to us at the Cystic Fibrosis Foundation, it's hard to find the words to share what he means and what he has done for us in raising the awareness for the fight against cystic fibrosis," said Pat Joseph, executive director of the Western Pennsylvania Chapter of Cystic Fibrosis. "He has been there every step along the way and been a phenomenal friend and a great spokesperson for us.
View photos from the event HERE.