In retirement, Keisel says football's violence came as a 'shock'
Posted On February 5, 2016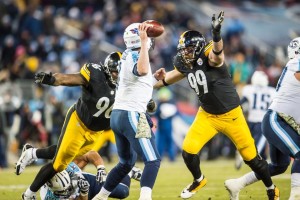 From Mark Kaboly, TribLive:
Brett Keisel has been out of the game for only a short time — 11 months, to be exact.
So, you would figure it wouldn't alter the way the longtime Steelers defensive end views the game he played for 13 seasons.
Think again.
"I watch games now, and I'm sometimes in shock that I ever played because it is such a physical game," Keisel said. "I miss competing, but I sure don't miss the violence of the game."
Keisel, 37, was released in March by the Steelers after suffering what turned out to be a career-ending triceps tear late in the 2014 season. He spent a portion of Super Bowl 50 week doing promotional work for Head and Shoulders and reflecting on what was a solid professional career.
Keisel was a seventh-round pick in the 2002 draft and spent a portion of his rookie year on the practice squad. After missing the entire 2003 season with a shoulder injury, Keisel played in all 16 games in the 2005 season before signing a lucrative contract and starting the next eight years at defensive end.
The Steelers brought back Keisel during training camp in 2014 to mentor young defensive ends Cam Heyward and Stephon Tuitt.
His season ended when he tore his triceps in a late November loss to the Saints.
It was a play that Keisel has a hard time forgetting.
"I kind of knew," Keisel said. "Once the triceps went — everybody talked about the look on my face then and it looked like it hurt so bad. The painful look on my face was knowing that it was probably my last NFL snap."
The Steelers released Keisel three months later.
"Everybody wants to go out like Jerome (Bettis) or having a chance like Peyton (Manning) does out here, finishing their careers out at the Big Game and having a chance to go out on top," Keisel said. "Sometimes that doesn't happen."
Keisel has transitioned into another stage. He said he has been able to spend a lot of time with his family, and has gone elk hunting in his native Wyoming with his father and brothers. He also is in the midst of starting his own company.
Although Keisel wouldn't go into details, the company has something to do with the outdoors that will incorporate "leadership."
"Just my overall love for the outdoors and the value I feel it comes with exploring it," Keisel said.
Keisel keeps a pretty tight schedule in retirement. He will hold his sixth annual Shear Da Beard fundraiser for Children's Hospital on Feb. 11. Keisel said his beard is the longest it has ever been.
"This beard has really changed my life," Keisel said. "Not only helping Children's Hospital but meeting random beards all over the world is cool, too."
Now, football is totally out of Keisel's life. He has followed the Steelers and gone on a couple of road trips to see his former team. What he saw impressed him, especially the defensive line.
"They have so much potential, and the incredible things with those guys is if they can keep their humility together and their work ethic together — which I totally feel that they will — they will make the D-line legacy continue."
Keisel spent the majority of his career under defensive coordinator Dick LeBeau, who asked his defensive ends to engage the line so linebackers could make plays. First-year coordinator Keith Butler changed that this year and allowed Heyward and Tuitt to get away from LeBeau's two-gap scheme.
"We always said that it would've been fun," Keisel said. "It was always a part of Coach LeBeau's scheme, and we would never question our role in our defense."
As for the defense in general?
"They have potential, and I feel like they are headed in the right direction. Coach Butler did a great job with them, and I look for them to gain from their experience of having a postseason win under their belt. Now it is getting that next one and that next one and ending up here."