Sharing memories from Super Bowl XL
Posted On November 12, 2015
It was a season to remember, and one those who were crowned Super Bowl XL champions at the end will never forget.
The 2005 season started with the Steelers winning seven of their first nine games, but three straight losses put the playoffs in doubt. The only way the Steelers were going to make it to the postseason was to win their last four games. They went on a mission and did just that.
When the postseason began, once again the task wasn't an easy one. Win on the road for three straight weeks before they could even advance to Super Bowl XL. A focused group set their mind on it, defeating Cincinnati, Indianapolis and then Denver in the AFC Championship game. It was then on to Super Bowl XL, where they took down the Seattle Seahawks to win the team's fifth world championship.
Now, 10 years later, members of that team will gather this weekend as the Steelers celebrate the 10th anniversary of Super Bowl XL at Taste of the Steelers on Saturday night, and again on Sunday when the Steelers host the Cleveland Browns at Heinz Field.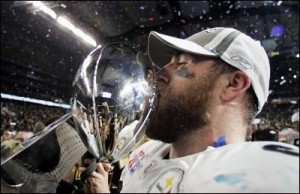 The season was a whirlwind, playing on special teams. To go through the experience and the games themselves, against the Bengals Carson Palmer goes down, Indianapolis that wild game and we go to Denver and play great. They to go back home to Jerome's (Bettis) hometown of Detroit and come up with a tough fought game, victory for the world championship was something tough to beat." – Brett
Read more from Alan Faneca and James Farrior
HERE
.