Talkin' Coach LeBeau
Posted On January 13, 2015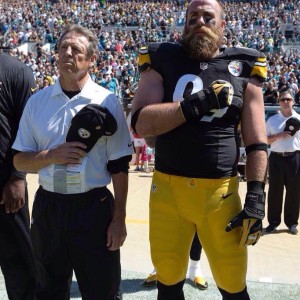 Brett joined Randy Baumann and the WDVE Morning Crew today to discuss the departure of Coach LeBeau.
You can listen to the touching interview HERE. Brett's segment comes in around 20:42.
Highlights:
On hearing Coach LeBeau had resigned:
I was surprised. It shocked me a little bit. I think it's how abrupt everything happened.
Coach LeBeau-everybody knows how much he means to us. That whole locker room has been so much better off because of his presence.
His football records speaks for itself.  He was a father figure for us. All of us kind of grew up with him. He's so much more than just a football coach.
On how LeBeau impacted their lives:
Somewhere throughout our time here with the Steelers, he found a way …a moment…to be at the right place at the right time when we needed him personally and professionally. He's a special guy.
On the team being in transition:
We had so much success and so much fun. The team has a bunch of great young talent. Steeler Nation should be very excited about the future.
On his future with the team:
I haven't really made my decision..one way or the other. I still have another year on my contract, and I still have this ridiculous triceps that I'm rehabbing.
That's my focus is to get this arm back to where it was and get my body back to where it was. I am sure when the birds start chirping around here I'll wanna start training. As of right now, I am just focused on getting this arm back.