Da Beard sightings
Posted On October 4, 2015
Da Beard has been busy the last few days…
From a pre-game tailgate party with fans: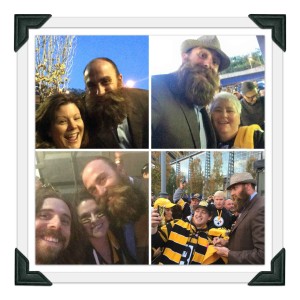 Click the link above to read more about the event and to view many, more photos!
To Children's Hospital's 125th Anniversary Gala: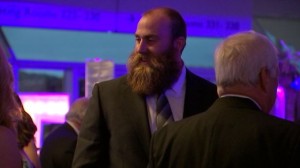 And, then to the Pirates game:
Fun family time at the ball game. I love this place. #Pittsburgh #Pirates — Brett
Brett also spoke to the media about his life and whether he would return to football:
From Tadd Haislop, Sporting News:
"Yeah, I'd say let's talk," Keisel told Sporting News. "I haven't retired. I've been training. Last year I tore my tricep, so it's been interesting to train and get that tricep back. It's been great getting into the gym and working out."
And it looks like he'll be a Steeler for life. Keisel was far from enthusiastic about the idea of playing for anybody else.
"It's kind of tough for me to see myself in another uniform," he admitted. "It would be tough. I would talk to them —I don't mind talking to them. It makes me feel good when I'm wanted."
Living without the aches and pains of football has been refreshing — part of the reason he doesn't seem interested in a return to the NFL, Pittsburgh being an exception. If he's not helping the organization he loves, what's the point?
"I definitely miss it, but I'm telling you, it's nice on Monday mornings," Keisel said with a laugh.
"It's fantastic. I feel calm and collected … Refreshed the next day. I've never really went through that. I'm happy with the way my body feels right now. I feel lucky to have gone 13 years in the National Football League, have the success we had, and I can still chase my kids around the yard … I can still do a swan dive into the swimming pool."
And two Super Bowl rings to show for his career certainly enhance Keisel's comfort level.
So if your team at some point this season needs to add depth with a veteran defensive lineman, it won't find help in Keisel.
He'll be clad in black and gold like he never left the Steelers, and figuratively, he never will.