"We took one on the chin today"
Posted On October 12, 2014
We couldn't find a way to respond. We gotta look at it and hopefully learn from it. We gotta learn from the bad and turn it into something good. We took one on the chin today. — Keisel, from his post game interview.
The Steelers were defeated by the Browns, 31-10. It was a tough loss to their division foe.
Bob Labriola, Steelers.com offers insight into "What went right" for the Steelers today:
Great start for the Steelers defense. Browns QB Brian Hoyer could find nobody open on first down and threw incomplete. Then on an attempted outside-zone stretch play, Troy Polamalu dropped Ben Tate for a loss. And then on third down, Cam Heyward pushed RG John Greco back into Hoyer's lap before sacking the Browns quarterback to force a Cleveland punt.
The Steelers defense came out with a takeaway in the early portion of the fourth quarter. Isaiah Crowell burst through a nice hole over the right side for a 10-yard gain, but a hit from Mike Mitchell knocked the ball loose, and Cortez Allen recovered at the Cleveland 44-yard line with 11:11 remaining in a 31-3 game.
Read more HERE.
Brett pressured Hoyer, getting into his face and causing an incompletion. Brett later left the game with what Tomlin called a left knee sprain. He will be further evaluated, per Coach Tomlin.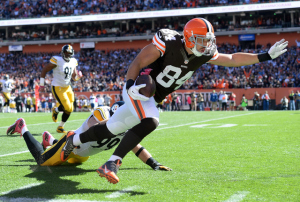 Praise from former teammate Max Starks:
"Keisel still has jets!– On Brett chasing Browns tight end Jordan Cameron all the way down the field to save a touchdown.
And, from Iron Anvil (TheIronAnvil):
"Excellent hustle to chase down Jordan Cameron from behind. Too legit to quit."
Brett spoke to the media and advised them he was "fine".
Brett was asked if was worried that the defense just wasn't talented enough:
"No, I m not. I believe in our guys, I believe in our system, I believe in our coaches. We've got to find a way to have a winning effort, and then put another winning effort towards it.
We will keep you updated on Keisel's injury, as news becomes available.