Legacy of former Steelers defensive linemen secure
Posted On November 22, 2015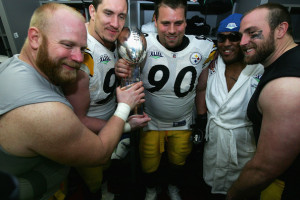 From Chris Adamski, Trib Live:
They formed what could be called Steel Curtain II during the second-most successful decade in Steelers history.
And Casey Hampton, Brett Keisel and Aaron Smith believe the next sequel of Steelers defensive lines can be just as good.
"Absolutely," Keisel said after about three dozen members of the Super Bowl XL team gathered for a photo as part of Steelers alumni weekend festivities. "Those guys are a tough bunch. I look at all the talent.
"I've got 100 percent belief in them to carry on (the legacy)."
Nose tackle Hampton and ends Smith and Keisel played together on the Steelers' defensive line from 2002-11. Over that span, the team won three AFC championships in addition to Super Bowls after the 2005 and '08 seasons.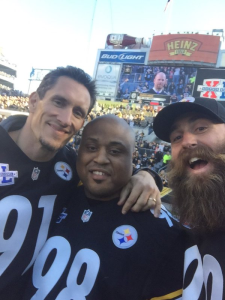 The 2005 team was honored Sunday as part of that championship's 10th anniversary. Six times, that defense that ranked No. 1 in yardage and/or points allowed.
The 2000s version of the Steel Curtain combined for seven Pro Bowls — five by Hampton. They earned neither the accolades nor the recognition the original Steel Curtain received.
Joe Greene is in the Hall of Fame, L.C. Greenwood was on the NFL's 1970s all-decade team, Ernie Holmes was named second-team All Pro and Dwight White made two Pro Bowls.
But the generation of Steelers defensive lines that preceded the current edition mostly was asked to occupy blockers so linebackers could make plays.
This season, under first-year defensive coordinator Keith Butler, the job description for ends Cam Heyward and Stephon Tuitt is changing. They're allowed to be more aggressive and often play more "one-gap" than the "two-gap" (passive) that Smith and Keisel perfected over a decade.
"Oh, yeah, absolutely," Keisel said when asked whether he noticed the freedom his successors are given. "That looks nice.
"But we knew our role in the defense, and (former coordinator Dick LeBeau) put that defense in for a reason. It wasn't for individuals. It was about team. And all of us up front understood our role, and I think that's why we were as good as we were.
"I think this (D-line) can be great, too. So it's just coming up with that balance. But during my time that was our role to play that way, and that's what made us good."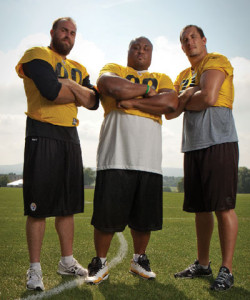 Hampton, a 6-foot-1, 330-pound bowling ball, was most suited for LeBeau's system. But the former nose tackle, who retired after the 2012 season, shrugs at missing out on the new era of Steelers defensive linemen.
"They let me get at it a little bit," Hampton said of being aggressive and rushing the passer.
"The defense was good for what I did, and I was cool for what it was."
Few players in Steelers history have been more appreciated by their teammates than Smith, whose career statistics weren't gaudy.
But to this day, Heyward will cite Smith as the model for how to play defensive end.
"That was a pretty good group," Smith said of himself, Keisel and Hampton. "We did what we were asked, took pride in it."
View photos from Alumni weekend HERE.