Mel Blount puts a lot of thought into it. He doesn't just randomly select an individual to honor because they are a fan favorite, but rather finds someone who is making an impact, someone who shares his passion for helping others.
And that is exactly why Brett Keisel was honored at the 20th Annual Mel Blount Youth Home All-Star Celebrity Roast, which was held at Heinz Field, benefitting Blount's Youth Leadership Initiative.
"Mel is such a great guy," said Keisel. "I'll never forget the first time I saw him come into our locker room and he looked like he was a 7-footer. He had his high heeled cowboy boots on, and a 10-gallon cowboy hat and I'm like man that cat played cornerback? Are you kidding me? No wonder he changed the game.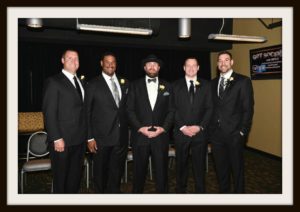 "It's definitely an honor to have him reach out to me and also a nerve-racking honor because I am getting roasted. I know there is plenty of fuel to put on the fire in that regard, especially with me.
"It's an honor. For someone who meant so much to that 1970s team and still is such a staple in this community to ask me to be a part of it, wow."
Like Blount, Keisel is all about giving back to the community, in particular the kids at Children's Hospital of Pittsburgh at UPMC. This year Keisel's hosted the eighth annual 'Shear Da Beard,' an event
"I talked with Brett on several occasions, and then when I went to Shear Da Beard, I knew that was the right decision to choose him to honor," said Blount. "I was impressed with Brett and what he is doing for Children's Hospital. One of the things I like to do is look at what guys are doing in the community, and giving back. Brett is a perfect choice. Good man, the things he is doing in the community, the things he stands for."
And what Keisel does at 'Shear Da Beard,' where he simply has his beard shaven off, has taken on a life of its own and has raised more money than Keisel ever dreamt for the cancer programs at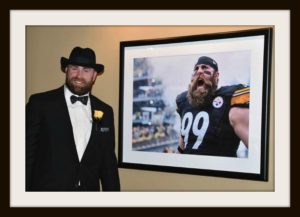 "I never would've imagined the event would grow the way it has and the only way that it's possible is Steelers Nation," said Keisel. "They kind of embraced it and they support Shear Da Beard every year. Every year it grows and it's just a real proud moment to come out and realize that we can cut a man's beard off of his face, but everyone also accepts the bigger message that we can all come together. We can all come together and make a difference and that is what the night is about. Coming together, celebrating a couple Steelers championships that we had and some guys that helped get us there. Seeing that we can really make a difference if we try."
Keisel's passion for helping the kids at Children's Hospital, mainly those battling cancer, stemmed from his relationship with former teammate Aaron Smith and the battle with leukemia his son Elijah was fighting.
"Aaron and I became very close throughout our years here in Pittsburgh. Aaron was someone that I looked up too," said Keisel. "I was constantly trying to work out like he did, watch tape like he did, practice like he did. Do all of the little things that he was doing and be a pro like him. I was constantly in his ear asking questions and we became close.
"When Elijah was diagnosed, I'll never forget that day when I came to work and Aaron wasn't in the hot tub that morning because we'd usually meet in the hot tub and soak our bones and talk about the day. He wasn't in there and I went and asked our trainer if Aaron was all right. He kind of told me what was going on. I remember it just being like a real eye opener morning, kind of putting things into perspective for me. Later on that week we finally got to talk to him and see how he was doing. It was tough. He wasn't sure what was going to happen. He wasn't sure what this meant for his child to have leukemia. Where it was going to go. How long the treatment was going to be. But he knew one thing that he was going to fight, and he was going to teach his son to fight. Regardless of how long it took, regardless of what the treatments took. They were going to fight.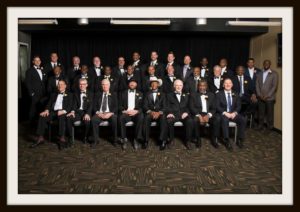 "That was a big moment that I had there with him because it put things into perspective, when as a father you see your child going through something and you can't help them. You can't do anything. You want to switch places with them. You want to take the pain. You don't want to see them in pain. I think he knew he could trust me and so he would talk to me about some of the stuff, maybe not everybody else, but he would talk to me about the treatments and things that Elijah was going through, and other kids that had cancer were going through and it just broke my heart. A few years later when I was growing my beard out and stuff, I wanted to do something to give back to those kids, and we started 'Shear Da Beard.' I've met these kids. I've gone to the hospitals. I've met their families. I've talked to the doctors. I see the real grind that they are in and how easy it could be to just say I don't want to do this anymore. They press on. It's just kind of my way of supporting them and telling them I have their back and hopefully we can raise some money to help find a cure for this stuff because I think everyone is sick of it."
One thing Keisel isn't sick of, is the city he has adopted as his home. Keisel was born and raised in Greybull, Wyoming, but has made Pittsburgh his home, the place where he launched his new business, Mighty Oak Adventures, something that combines his love for the outdoors with the teamwork concept he learned in football.
"I learned from Coach (Dick) LeBeau, Coach (Bill) Cowher, and Coach (Mike) Tomlin, life lessons. Not just football lessons, but life lessons. Those are the things that I can take to my clients and hopefully help them," said Keisel. "I take all those aspects and take it out into nature and talk to corporate teams, or other teams, executive teams, and we talk about different challenges they are facing. I can usually find a story that is similar to what we went through and usually have a pretty good story on how we overcame it and how we ended up with the Super Bowl trophy at the end of the year. I get to throw in my favorite things to do which is fishing, shooting trap, and hiking. I am waiting for someone to do white water rafting with me. It's such a fun way to share those experiences with them and see them catch their first fish, or let them see them hit their first trap, and watching that come over their face, it's joyous. It's also a unique way of bonding with their coworkers, employees or clients.
"It's just been amazing to watch it grow because we took it from nothing and made it a running, working company. I am an entrepreneur. That is pretty cool. Getting to meet and see some of these successful corporations around Pittsburgh has been great and I am excited for the future and where it's going."