Thanks from the Castillo family
Posted On October 17, 2014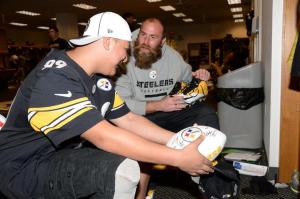 Awesome meeting my new friend Hector today. See you at the game buddy.– Brett.
The Pittsburgh Steelers hosted a very special guest at practice today. Hector Castillo and his family visited from Pasadena, Texas through the Make- A -Wish Foundation. Read more about his visit in our earlier post.
After posting about Hector's amazing day, we received messages from him and from his family:
It was an amazing experience today. I haven't seen him this happy in a long time. Thanks to all the Pittsburgh Steelers who made my son's day a day he'll never forget! — Merrianne Velez Castillo, Hector's mother.
Brett Keisel is an amazing man, I want to thank him and the Steelers organization for taking real good care of my son and making his day so special. Thank you for showing my son awesome time today. You're the best. Go Steelers! — Hector Castillo, Hector's father.
And, from Hector:
I would like to thank Brett Keisel for today. It was really fun and thanks for the Beats too. I would not know what I would be doing if it wasn't for you Keisel. You are my role model.  I would like to thank the other players too. And ,cool looking locker room too it's awesome!