Steeler Nation shows off their Black and Ghoul!
Posted On October 31, 2014
Happy Halloween!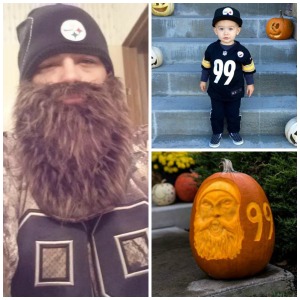 As usual, Steeler and Da Beard Nation came out big for their favorite team!
Fitz Nicentight went as his favorite Steeler…99!
Jessie Phillips adorable son, Keisel, had the same idea!
And, Nicole Veselenak Caslow decided to try her hand at a Da Beard o' Lantern!
And, we have….
The anatomy of a pumpkin…
My man Roman has a school project due tomorrow. Decorate a pumpkin. Let's see how this turns out.– Da Beard
Mission:
Decorate a pumpkin
Tools:
Pumpkin
Da Beard Gear Hat
Beard
Eye Black
99 Helmet
Glue
Fake Eyes
Mission Complete: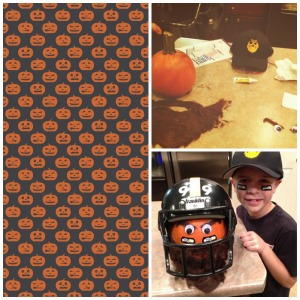 Oooh scary pumpkin! – Da Beard Approved!
Great work Roman!
Thanks to all who sent photos! We love seeing the creativity of Steeler Nation!
If you dare, click HERE to view more photos! Don't be SCURRED……
Have a very HAPPY and SAFE Halloween!