AFC North Division Champions!
Posted On December 29, 2014
The Steelers defeated the Bengals by a score of 27-17 to get the win AND to earn the title of AFC North Division Champions!
My favorite kind of #hotcakes are at home in front of our fans. And I got a hat and t shirt! #AFCNORTHCHAMPS! — Keisel.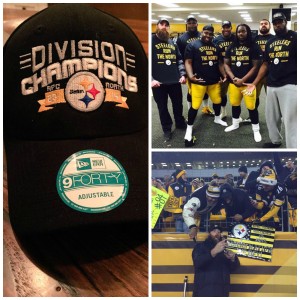 From Scott Brown, ESPN.com:
The Steelers won their first AFC North title since 2010 and captured the No. 3 seed in the AFC playoffs. Coach Mike Tomlin has to be as proud of his team's mettle as he is that the Steelers won eight of their last 10 games after going 3-3 to open the season.
Unheralded cornerbacks Brice McCain and Antwon Blake came up huge for the Steelers. McCain intercepted Dalton twice in the first half. His second pick set up the Steelers' second touchdown of the game. Blake, who has been playing nickelback with Ike Taylor out and McCain elevated to the starting lineup, made the play of the game when he ripped the ball away from Bengals wide receiver A.J. Green after a catch and then recovered the fumble.
Read more on the big win HERE.
Check out a few photos.
Congratulations to the Steelers on winning the AFC North!
Coming up: The Steelers will play the Ravens at Heinz Field on January 3,2015 at 8:15 p.m.
Read more on the Wild Card game and obtain ticket information HERE.