Da Beard at the 'Wheel'
Posted On February 7, 2016
The Wheeling Nailers held Steelers Night on Saturday, and look who showed up at the 'Wheel'!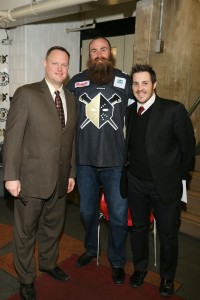 Brett with Nailers Head Coach, David Gove and Assistant Coach, Jeff Christian
View more photos HERE.
Da Beard was on hand to cheer on the Nailers!
And…
To drop a puck (along with a Steeler-lovin' scout )…
To greet fans…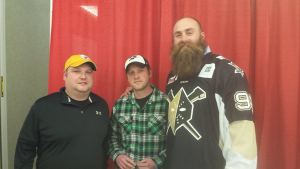 Photo: Jeff Sengewalt:
"Thanks to Brett Keisel…and the Wheeling Nailers for bringing him in."
To sign autographs…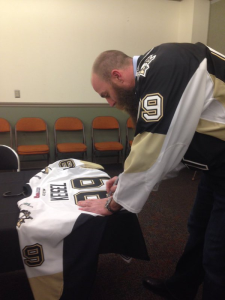 Photo: Wheeling Nailers
To kiss babies…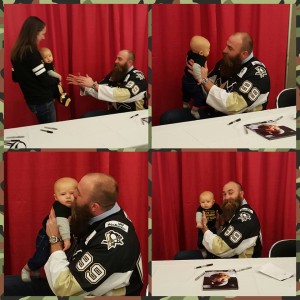 Jaxon was not so sure at first…but he came around.
Thanks for being so awesome with Jaxon!- Kayla Kellogg
And, of course for selfies!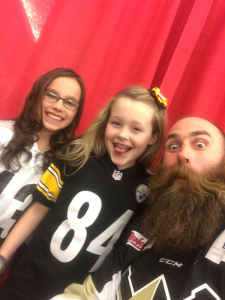 Brett was so good to girls! Thanks to him & Wheeeling Nailers for a great evening w/ a legend.- Crystal and Dominic Pietranton
Brett could not pass up a chance to snap a pic with Wheeling PD: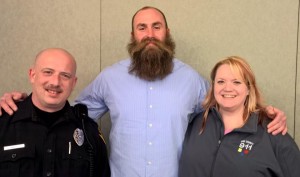 Thank you SO much for the photo op with Wheeling PD Officer Bryan Hails and I. YOU ARE AWESOME!- Suzi Flick
Thanks for all you do!
More photos:
From Crystal and Dominic Pietranton: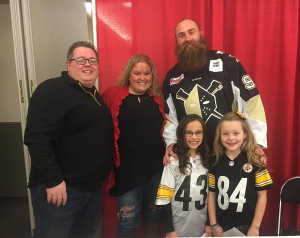 From Cody Wills: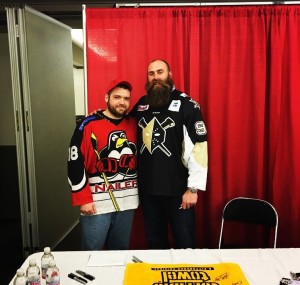 A big thanks to ALL who came out to meet Brett and to cheer on the Wheeling Nailers!
View more photos HERE.