Spending some time on The Bachelorette…
Posted On June 10, 2016
Steeler Nation was in a state of surprise Tuesday as word came out that three of their favorite players may be on the ABC hit show, The Bachelorette.

We all tuned in to see Brett, Ben Roethlisberger and Hines Ward at Heinz Field with this season's Bachelorette, JoJo Fletcher.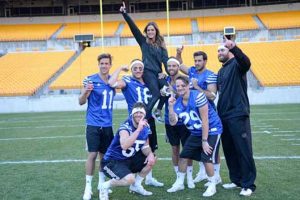 Photo: Buddy TV
Charlotte Wilder, FTW USA Today Sports, spoke to Brett a bit about his appearance:
"It was so fun to run through some drills and then have the game. The game was heated, man. It really did come down to the final drive, the final play. The emotions were high."
Brett's favorite bachelor:
Evan!
"Evan was the underdog, and when we started doing drills with Evan, I thought, 'This is going to be a disaster, this guy's going to get crushed,'" Keisel said. "But he shined. But then they showed that one shot where he's fixing his hair with his hands in the mirror before the game, and I'm like, 'C'mon, Evan, man, we're about to go play football! You don't need to worry about that!'"
Read more and view some great photos HERE.
Brett also jumped on with Russillo and Kannell to talk about his experience on the show…
Of course, the guys asked about the villian of the show, Chad:
"Yeah, I'd like to body slam him"
On the experience:
"It was great having an opportunity to go show them what Heinz Field is all about…and have a couple of my best friends and teammates with me"
"It was so fun sending them through some drills. We got them a little bloody even.
On his career:
I'm done..I had my time in the sun..I'm done."
And, of course he ended his interview with...
"Let's go Pens baby, let's go Pens!"