Ron Cook: People benefit from Steelers' charitable deeds
Posted On November 4, 2015
Tired of reading about drug users, drunk drivers and wife beaters on the sports pages? Looking for something a little more uplifting? Congratulations. You have come to the right place this morning.
Steelers tight end Heath Miller caught 10 passes for 105 yards in the loss Sunday to the Cincinnati Bengals. He paid a big price for each catch in the brutally physical game, especially when he took a shot to the head from safety George Iloka. It was hard for Miller to get out of bed Monday morning, but he made it to Warrendale Monday night to be a co-host for the 14th annual Glimmer of Hope Foundation fundraiser to support breast cancer research in Pittsburgh.
Alan Faneca is a former Steelers guard, a nine-time Pro Bowler and six-time All-Pro who is destined for the Pro Football Hall of Fame after a terrific 13-year NFL career. He lives in Northern Virginia with his wife and three children and is coaching high school football — offensive and defensive linemen, of course. He hasn't played with the Steelers since the 2007 season, but he, too, made it to the Glimmer of Hope gala as a co-chair. He comes back every year.
"They're not just great people. They get it," Glimmer of Hope founder Diana Napper was saying of Miller and Faneca before the event, which attracted 200-plus people, who paid $225 each for a ticket.
"They understand that their celebrity gains money."
For Glimmer of Hope, it has meant more than $2 million for the premenopausal breast cancer program at Magee-Womens Hospital of UPMC. The event, which included an autograph session and silent and traditional auctions of sports memorabilia, raised more than $100,000.
"Every penny we make goes to [Magee]," Napper said.
The satisfaction from helping others is what drives Miller and Faneca.
"I think it takes every guy a little while to realize, 'I can do something with my name besides play football. I can use it for good,' " Faneca said. "It would be such a waste not to take advantage of that opportunity."
Napper, of Wexford, watched her best friend, Carol Jo Friedman, die from breast cancer in 1991. Raising money to beat the horrible disease has been her mission since. It is her passion.
"Carol wanted me to open a hospice in her name because she was a single mother who depended on hospice at the end," Napper said. "Well, I don't want to hear hospice. I want to hear how we can get these women to live."
Former Steelers Brenden Stai and Kordell Stewart were co-hosts of the first Glimmer of Hope event, a golf tournament at Treesdale Golf and Country Club in 1999. Napper met Faneca and his wife, Julie, through Stai, who left for the Jacksonville Jaguars after the 1999 season.
"They contacted me," Napper said. "They wanted to be involved. It was actually Julie's idea to do the very first Bid for Hope."
It's no wonder Napper has said of Faneca, "You might think Alan was brought here to help the Steelers win the Super Bowl. We think he was brought here to raise money for our under-40 breast cancer research."
At the Fanecas' request, Miller and his wife, Katie, took over as the Steelers' driving force behind Glimmer of Hope after Faneca left to become the NFL's highest-paid offensive lineman when he signed a five-year, $40 million contract with the New York Jets.
"Alan isn't someone you say no to," Miller said.
Each year, several Steelers show up to support Glimmer of Hope. Troy Polamalu and Hines Ward have been there. So has Joey Porter. "We had our biggest year when Joey was our auctioneer," Napper said. "He kept calling people out on their raises."
Ben Roethlisberger was there Monday night. So were DeAngelo Williams, Cam Heyward and Mike Vick. Williams, who lost his mother and five aunts to breast cancer, brought a used game jersey that raised $1,600. Former Steelers Charlie Batch and Brett Keisel were there. So was Pirates second baseman Neil Walker. Napper coupled an autographed bat and ball from Walker with an autographed jersey and helmet from Miller in the auction. "The Hometown Kid and the Hometown Hero," she said, grinning. The items went for $2,000.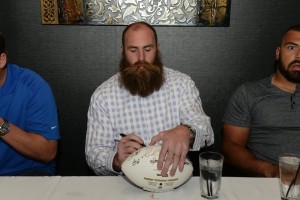 "The guys never hesitate," Keisel once said of his teammates turning out for charity. "It's something so easy for us to do and it means so much to the [community] …
"I look at it this way. The city we're in and the position we're in, we have to give something back. The Pittsburgh Steelers mean so much to this city and people give us so much. How do we not give something back? That's what I try to tell the young guys. 'Plenty of people need our help. Find something close to you and get involved with it.' "
Faneca and Miller are carrying on that wonderful tradition.
Napper is right.
They get it.
I think sometimes we base our opinion on what these players do good, and not on the good they do. That Good is so much more important and I saw this first hand over the last few weeks with Brett and Sarah Keisel and Heath and Katie Miller (and more). Lives are changed through their kind acts and for that I am grateful." — Diana Napper, founder A Glimmer of Hope.
Thank you to Diana and her wonderful giving spirit. A Glimmer of Hope has truly given hope and blessings to so many.