Enjoying one of his 'brighter' days
Posted On October 12, 2017
From Teresa Varley: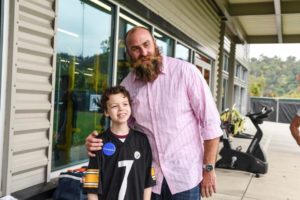 Gio Piazza stood beside Ben Roethlisberger in the middle of the field at the UPMC Rooney Sports Complex, his smile a mile wide as the two chatted in the final minutes of Steelers practice on Friday afternoon.
For Piazza, this is what his mother would say was the 'brighter' moment that he was promised.
The 10-year old Piazza has travelled a tough road, and gone through countless treatments for a brain tumor. It wasn't easy, it wasn't pleasant, but he always stayed positive.
"We had a little saying when he was in the hospital," said his mother Michelle Piazza. "It was, 'Hey little fighter, everything is going to be brighter.' He would always give me a thumbs up. There were times he couldn't talk. This is definitely his brighter moment. It means everything. This is his brighter and I love it, I absolutely love it."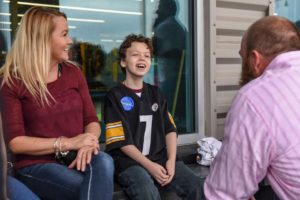 Piazza, who is from Amherst, Virginia, was a guest of the Steelers through Make-a-Wish and will also be at Sunday's game at Heinz Field, his first ever NFL game.
"This means everything," added his mom. "He has gone through everything, so I couldn't give him what you are giving him and it's awesome."