"She smiled all night…"
Posted On April 23, 2016
You never know how much you can change a child's life with a simple gesture…
From Jennifer Geier:
I took my daughter, Ashleigh to Children's Hospital (Pittsburgh) after a couple days of thinking she had a stomach bug. She ended up in ICU for three days and having an emergency splenectomy. She was bleeding internally. She has a learning disability so it was hard for her to understand what was going on.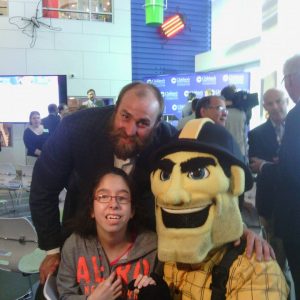 When we met Brett she had been there 9 days and  was not smiling. We met Brett at the 125 year anniversary party on June 4th and she smiled all night. She went home the next day and said Brett was her good luck charm. He was so sincere and concerned it brought tears to my eyes.
We wish Ashleigh well and hope she continues to smile!