Ron Cook: Brett Keisel is rooted in Pittsburgh
Posted On February 11, 2018
It's the damndest thing, Brett Keisel was saying the other day. In the past eight years, he has raised more than $500,000 for Children's Hospital of Pittsburgh of UPMC. "Just by having people come out to see a man's beard being cut!"
It's a Pittsburgh thing.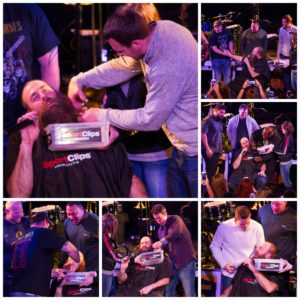 Keisel's eighth annual Shear Da Beard extravaganza happens Friday night (Feb. 16) at Jergel's Rhythm Grille in Warrendale. It has been three years since he retired from the Steelers, but that hasn't lessened the popularity of the event. Nor has it lessened his enthusiasm for it.
"We try to make it a night to remember."
Keisel's former teammates and coaches come out to support him, as do many current Steelers players and coaches. There is live entertainment. Last year, the Penguins' HBK line – Carl Hagelin, Nick Bonino and Phil Kessel – stopped along with one of its biggest fans, Shawn Michaels. This year, Penguins two-time Stanley Cup champion Phil Bourque will be there to have his sizable beard trimmed. "It's a legit beard," Keisel said, offering his greatest praise.
The best part of the night for Keisel will be an appearance by kids from Children's Hospital. "They put a face on the whole thing. They are why we do what we do. They are the toughest people I've ever known in my life. They've given me so much more than I've given them."
Did I mention this was a Pittsburgh thing?
"This place resonates in my blood," Keisel said. "Pittsburgh can't get rid of me. All of my [three] kids were born here. I can't think of a better place to raise them. The people here are hard-working. They're humble. They care about each other. They take care of each other."
That's why it was easy for Keisel, a Wyoming native, to stay after his playing career. He was smart enough to find a way to turn his love of the outdoors into a second successful career here. His company is called Mighty Oak Adventures. It partners with Nemacolin Woodlands in Farmington and HomeWaters Fishing Club in Spruce Creek, near Altoona, to provide retreats for executives and corporate groups.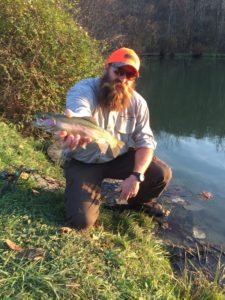 "I thought about coaching or the media, but all I really wanted to do was go fishing," Keisel said. The concept for his business grew out of a fishing trip with former teammates Heath Miller and Troy Polamalu. "It was right after the Steelers let us all go," Keisel said. "We spent time together and really bonded. We talked about our situations and what we needed to do to move on …
"I saw the value in that experience and took it to a different level. I talk to people about their company's struggles and how they're often the same struggles that we had as a football team. I talk about how to correct those struggles, how to overcome them and how to be a champion.
"I just think there's such value in out-of-office time."
The rush Keisel gets from those excursions is nice, but it's nothing compared to what he experienced during his playing days. Late in his career, he talked about how much he was going to miss the unmatched feeling of coming out of the Heinz Field tunnel before a game. It turns out he misses it more than he imagined.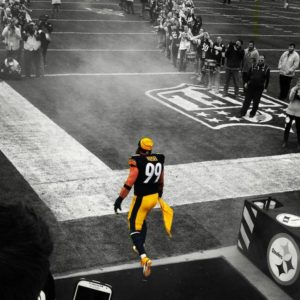 "It's still hard for me to be at a game. I miss everything. The competition. The team camaraderie. The fact that we always cared more about each other than we did about ourselves. The locker room, most of all. The locker room is such a special place. It's a sanctuary."
That's why Keisel is a bit envious of former teammate James Harrison, who played in another Super Bowl last Sunday with the New England Patriots. The two played in three Super Bowls with the Steelers, winning two. What Keisel would give to play in one more.
"I'm happy for James. I understand why he did what he did [leaving the Steelers]. He wanted to play and proved he still can play. It always was amazing to watch him play and amazing to watch him work."
Keisel's admiration for Harrison didn't extend to his Patriots teammates. Like most of Pittsburgh, he's happy they lost to the Philadelphia Eagles in Super Bowl LII because it means the Steelers still have the most Super Bowl wins with six. But that doesn't mean he doesn't respect the Patriots, who have been to eight Super Bowls during the Belichick/​Brady era.
"It's history, we're watching," Keisel said. "It's unbelievable what they've accomplished. They're so well-coached. It's amazing to me they've done what they've done so many times. As a guy who knows what it takes to get there a few times, I really appreciate that."
Keisel had hoped to have a Steelers Super Bowl celebration at Shear Da Beard VIII. The Jacksonville Jaguars ruined those plans, of course. He still has a hard time believing the 45-42 final score. His old Steelers defenses often would go weeks without giving up so many points.
"I watched the game at home with my kids [Jacob, 9; Grace, 7; and William, 5]," Keisel said. "To see them get so emotionally involved and then frustrated … I had to explain to them it was a bad day. It was a bad day to have a bad day."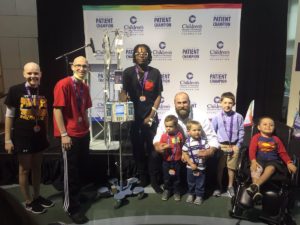 Keisel isn't having many of those these days. He always will be regarded as one of the great Steelers. But he will be better remembered for his amazing beard and what he does with it for the benefit of a lot of sick kids.
"The people who support Shear Da Beard are the ones with the big hearts," Keisel said. "All I do is sit in a chair."
Nice, right?
The big, bearded man is humble, too.
Ron Cook: [email protected] and Twitter @RonCookPG. Ron Cook can be heard on the "Cook and Poni" show weekdays from 10 a.m. to 2 p.m. on 93.7 The Fan.