The Heartbreak Kid & Da Beard meet HBK sandwich at Primanti Bros.
Posted On May 22, 2016
View photos HERE.
Professional wrestler Shawn Michaels, also known as the Heartbreak Kid probably never thought he would be involved in a craze that can only happen in Pittsburgh.
The HBK line of the Pittsburgh Pengiuins — comprised Carl Hagelin, Nick Bonino, and Phil Kessel attracted the attention of Michaels.
From SB Nation:
Aside from keeping the team's hope for a Stanley Cup alive, the HBK line has also garnered the attention of the other HBK.
Wrestling fans recognize that abbreviation. For them it stands for Heartbreak Kid, the nickname of WWE legend Shawn Michaels. Fans from both worlds have noticed this and it is resulting in an excellent combination of the two.
Shawn Michaels has become a Pens fans and will show up on Sunday for Game 5 of the Conference Finals. Until then, Sportsnet will return the favor by creating an entrance video, the same as a wrestler would have, for the HBK line.
And who better to escort Shawn to the game than Brett Keisel. We know Brett is a huge fan and supporter of the Pens so it was no surprise that he invited Michaels to sit with him at the game!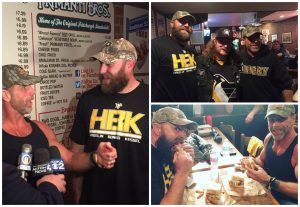 Of course, they first had to stop by the famous Primanti Bros. to get an HBK sandwich (created by Zakk).
From Primanti Bros.: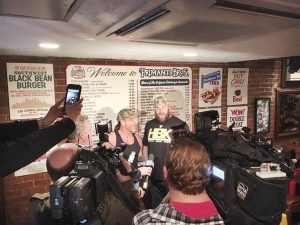 Every meal should end with a press conference!
We will have many more photos, so stay tuned!