On December 28, the Steelers take on the Bengals…
Posted On September 26, 2014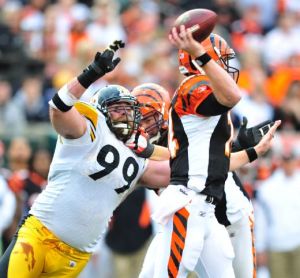 And, YOU could be in the crowd at Heinz Field cheering them on to victory!
Brett and Don's Appliances want to say thank you to fans and customers for all their support. What better way to say thanks than with TWO club seat tickets (North Club) for the game.
Ready to enter, but need a little more enticement? We have you covered-literally! Brett is throwing in a signed jersey!
Ready to enter? We thought so. this is a very easy contest. No hoops to jump through or mazes to maneuver. Register HERE and you're all set!
The winner will be chosen through a random drawing. You MUST be 18 years or older to enter.
Contest ends at midnight EST October 5th, 2014. Winner will be contacted via email.

Thank you to Brett and Don's Appliances for this amazing contest. Stop by Don's Appliances, online or in person. Pittsburgh shops Don's and so does Da Beard! Watch a quick video HERE.