"Man, what a night"
Posted On October 21, 2014
Brett"Man, what a night! That was crazy. A lot of points there within a minute or so. It wasn't just getting the turnovers, the offense punched them in", Keisel.
From Gerry Dulac, Pittsburgh Post Gazette:
After scoring just two touchdowns in a 10-quarter span that began in Jacksonville, the Steelers erupted for three touchdowns in a 73-second span near the end of the first half — a franchise record — thanks to two big takeaways by the defense. That allowed the Steelers to turn a 13-0 deficit into a 24-13 halftime lead. Ben Roethlisberger threw two touchdowns and Antonio Brown threw another for one of the wildest turnarounds in recent memory.
From Brett's post game interview:
Keisel talks about making an interception, the defense making plays, and about respecting beards on both teams.
On his interception:
It was a good play for us, and the offense went out there and got 6 points, so it was a big momentum swing for us.
On the Steelers defense:
A lot has been said about us. We stuck together as a team and worked hard this week, and did enough today to win.
On the win:
We got a win versus an AFC opponent and that's good for us.
We can't just win and lose one, win and lose one. We've got to be able to have the same urgency after a win as we have after a loss.
On Texans QB Ryan Fitzpatrick's beard:
I told Fitz that I respect his beard. He just doesn't quite have the moustache that I do. That's the difference. Fitz is a tough competitor. He grows a great beard, I got a lot of respect for him. These beards that we got are beautiful…you can't deny that.
On the new guys play:
With Steve McLendon (shoulder) unavailable, defensive end Cam Thomas played nose tackle, which in turn meant that rookie Stephon Tuitt saw significant time at defensive end and rookie Daniel McCullers saw the first snaps of his NFL career on the nose.
At one juncture the defensive line consisted of, from left to right, Tuitt, McCullers and veteran Brett Keisel.
"Those kids worked their tails off (last) week," Keisel said. "Both Dan and Stephon really worked hard. With Steve going down we told them, 'There's no time to waste, you gotta be ready to go, we need you to play good ball.'
"Both of them are capable guys. Both of them have ability and they can be special. It's just taking that preparation and making sure they carry it into the game." (From Mike Prisuta, Steelers.com).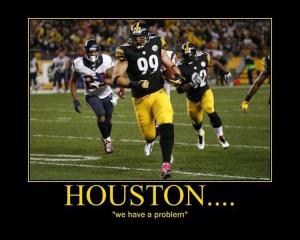 OUR 99:
From Burt Lauten, Steelers PR:
Brett Keisel leads the team with 11 QB hurries/pressures this year – also has 1 INT & 3 passes defensed.
From Jim Wexell, SteelCityInsider.net:
For the second consecutive week, Brett Keisel made the defensive play of the week. Against Cleveland it a the hustle play that I will remember until I die. Last night it was a 5,000 to 1 shot — according to ESPN's Sport Science — that gave the Steelers their 11-point lead. Sport Science also said of Keisel's quick reaction after catching the pass, which he had deflected into Timmons' helmet before it came back to Keisel, was akin to returning a 140 m.p.h. serve in tennis.
From Coach Tomlin's Press Conference:
Ol' 99. We will give him the week off and see if he can get his body ready to go on a short week (laughs) but I appreciate his efforts not only on that play but throughout the night. He provides veteran and savvy leadership and perspective during the course of preparation.
From Seth Meyers, Host of Late Night with Seth Meyers:
I've met Da Beard and he is a very nice person but you still have to FEAR DA BEARD!
From Joey Gotowski:
Did you guys see my man Brett Keisel tonight? He's the man! Killing it on the field!
From SportsCenter:
Well that escalated quickly! Brett Keisel with the WILD interception.
Brett's interception was also listed on their top 10 plays of the week!
From Jon Gruden, NFL Analyst:
That was a beard-on-beard crime! (Brett's interception of fellow beardsman, Ryan Fitzpatrick.
From ESPN, after the win:
I think you can credit the facial hair of Brett Keisel.
(Photo sent by Greg Parry).