Keisel's path to Pittsburgh
Posted On April 24, 2015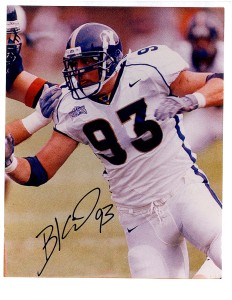 Draft Day Look Back – Part One:
With the 2015 Draft Day quickly approaching, we thought it would be nice to take a trip down "Draft Day Memory Lane"..all the way back to the 2002 draft. You know..the one that brought Brett Keisel to Pittsburgh.
On April 21, 2002, Brett Keisel was drafted by the Pittsburgh Steelers. How he ended up with the Steelers is an interesting story..but first let's take a look at the day before the draft. Before Keisel, from the small town of Greybull, Wyoming, knew if or when he would be drafted into the big leagues.
From Dick Harmon's article, All Keisel can do now is sit, wait. (The Front Row-April 20, 2002):
Brett Keisel comes from a real American family. His kin likes wide open spaces, horses, freshly baked pie, a good deer hunt, friends that don't lie and a fireproof flag.
On draft day, Brett will be at his parents' home located on a small ranch in Fairview. There he'll be relaxing with his older brother, Chad, who'll come down from Greybull, Wyo. They'll be pitching a few horseshoes and shooting pool as ESPN blares on and NFL draftees go down like solitaire cards.
Once upon a time, after Brett's father, Lane, retired as an Orem firefighter and moved his family and wife, Connie, to Wyoming, their son kept growing like a bull. He was the biggest kid in town, and in high school, nobody but skinny Matt Koeller was taller than Brett. It would take two of Matt to be as thick as one Brett.
After earning all-state honors in basketball and football, Brett did the natural things thing as the town's best athlete-he moved on to college, where he enrolled at BYU.
This weekend, it's uncertain if Brett will be drafted. If he is, he'll be the first player from Greybull drafted since Wyoming linebacker Jim Crawford ended up with the Raiders.
This week, Brett received all kinds of phone calls from NFL teams. Calls on Thursday alone were from the Redskins, Eagles, Dolphins, Jaguars Packers and Steelers.
Scouts wanted to know if he'd stubbed his toe; if he was healthy as the last time they saw him; if he pulled a hamstring, groin or calf muscle pitching horseshoes; and if all his numbers from the tests were on the level heading into draft day. Some wanted to know where he could be reached if he got drafted.
For Brett. who hobbled around much of BYU's 12-2 season with an ankle sprain and a hamstring pull, it's exciting. "It's a dream come true," he says.
Life has changed since he limped off the field at the Liberty Bowl. He's healed. He played well in the Senior Bowl. He's been through the NFL Combine where he was tested, jabbed, timed, probed and X-rayed. NFL gurus have toyed with his body and his mind. one question that he was asked was if he could kill little animals.
"It was weird," he says. "Some questions were goofy."
Now, Brett is a world apart from last December. His future is on the line. The next 48 hours, his life will be in a sort of suspended animation. He's at the mercy of ex-jocks, men with caps and grease pens and chalk boards.
"It seems like forever since I put the pads on and played football, " he says.
If he amounts to anything come Monday in the eyes of the NFL, Brett credits his coach, Gary Crowton, and conditioning coach, Jay Omer.
"They pushed us to the limits and it's been great," Brett says.
The next two days will seem even longer once the draft starts this morning. You can only toss so many horseshoes with big brother Chad. Shooting pool will also grow old.
He'll get the call or his agent will. Or there will be no call at all and free agency will call his number.
This is serious business now. Playing games is no longer for fun, but for money, and Greybull's once giant manchild is waiting like a hay field to be moved.
"I'm going to just relax. Whatever happens, happens. I did everything I could and I can't do anything more, " Brett says.
It's a simple approach and one that should work for this guy who could be happy in a wide open field or a crowded stadium.
Somebody just needs to call. Big Brett is waiting as well as a regular big guy can do.