Keisel's Path to Pittsburgh (Part Three)
Posted On April 30, 2015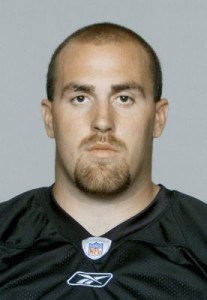 Brett Keisel's dream since the third grade had come true on April 21, 2002 when he was drafted into the NFL. Now, it was time to do what he had done his whole life…work hard and prove to the Pittsburgh Steelers that he belonged on their team.
From an interview with Steelers.com:
"I am just still in shock and glad I can come out to Pittsburgh and hopefully get a spot."
You can read the whole interview here.  (Note: this link takes you to the old, unofficial website, so the information & look of website is different.)
Coach Cowher talks about drafting Keisel:
Brett Keisel, the last guy we took, defensive lineman, defensive end. Played opposite Ryan Denney at BYU. Good, tough, motor guy that, again, plays hard. He can grow into the 290 range. We love his speed. Just has to learn to work and play in the scheme."
Proving some wrong…
An excerpt from a blogger who gave a Steelers Draft Day Analysis:
Draft Day Impressions: The Steelers really wanted Keisel's linemate, DE Ryan Denney in the 2nd round, but Cower nemesis and Buffalo GM Tom Donahue traded up with the 49ers to steal him away. So instead, the Steelers settled for Keisel in 7th. He probably will never start a game for the Steelers, but you never know until you put the pads on and play the game, as Hall of Famer Chuck Noll used to say. Grade: C, predicted grade after 3 years: D
The blogger certainly called that one wrong! Not only would Keisel become a starter, he would become a key player in two Super Bowl wins, a number 1 rated defense, and he would be selected to the Pro Bowl, which as Steeler fans know, is very difficult for a Defensive End in the Steelers system.
In fairness to the blogger, he did update his "Draft Day Impressions" to say he was both surprised and impressed with Keisel's play year after year.
If you are wondering about the "talk" of Ryan Denney, and how we ended up with Keisel instead of him, Jim Wexell explains it in his current day reflection of Brett's career. (Note: Mr. Wexell wrote this in 2012).
For those not familiar with Mr. Wexell, he is an author and a publisher at Steelcityinsider.net. If you are not a subscriber to his site, you are missing out on great draft, player and game analysis. It's worth a visit (or several visits) to his site.
I asked Mr. Wexell ( in 2012) if he had time to write a little something about what he remembered from when Keisel was drafted. I knew he was busy with draft analysis, so I just expected a quick quote, but he provided so much more. This is one of my favorite write-ups on Brett, and I know you will enjoy it also!
From Jim Wexell:
When I look back into my notes from draft weekend 2002, I'm reminded that Brett played opposite Ryan Denney on the defensive line at BYU. I remember that Denney was supposed to be the Steelers' second-round draft pick that year. That information came out after the Bills had drafted Denney right before the Steelers' turn, and Bill Cowher hit the roof because his nemesis Tom Donahoe — fired two years earlier by the Steelers — was the Bills' GM.
Cowher ordered a phone dump of the premises and found out one of the secretaries had called Donahoe that day, and so she was fired (she maintained innocence of Ryan Denney throughout, and those who knew here believe her).
But anyway, the Steelers were "stuck" with Antwaan Randle El and, as I like to say, Brett Keisel in the 7th round because Cowher had scouted Denney so extensively that he had to take a BYU DLman.
Isn't that typical of Cowher's dumb luck? I don't even know what became of Denney's career but we do know that ARE and Keis were key players in the run to Cowher's Super Bowl title.
Of course, the Steelers had been scouting the BYU DL since 2001 when they added Chris Hoke after the draft as a free agent. Hoke obviously was still with the team in 2002 and I asked him about that BYU DL with him, Brett and Denney.
"We were all real close and we played a lot of pranks on each other," said Hokie. "Me and Hans Olson (Colts) were always pulling jokes, and Keisel, a great guy, was always in on them." Who was usually the butt of the jokes?
"You know Ryan Denney, the guy who was drafted by Buffalo? He was the butt of a lot of jokes. He couldn't handle it. Either could (Simanli) with the Patriots. We'd take their helmets, hide their helmets. They'd get pissed. We had a lot of good times.
"At BYU, when we won a game, the following Thursday our Dline coach had us all over and his wife made homemade donuts and homemade ice cream. And on Halloweeen once we all dressed up. We had fun times. We pulled a lot of jokes on each other and sat around and laughed. Keisel's a great guy. I'm really excited. He's the first guy I really know out here, and it will be good for him, especially on the field. I remember when I first came in, it was crazy. I'm giving him a little edge."
Why are so many of you BYU D-linemen landing in the NFL?
"I think it's a tribute to our (retired) Dline coach. In the last two years he has five guys in the NFL. He taught us a great deal."
Are the systems similar?
"No, we ran a 4-3. I don't know how it works out. Keisel's real athletic, too, so I think that once he gets the defense down and gets more comfortable he'll do really well."
At the time, Keisel was lauded by draft analysts for his athletic ability, but was criticized for his change-of-direction skills and hand usage. Obviously he's overcome those negatives in a sound, bordering on spectacular, 10-year career.
And he still has some great years ahead. He's been durable and still seems fresh. I see no signs of wear or tear, and he's moving up into a true leadership role with the team. I've heard that Mike Tomlin intends to name him defensive captain this season.
It's funny that Brett's taking on the Aaron Smith persona of consistent, reliable team leader, and that we in the media are always asking him about Smith's affect on him as a mentor, and Brett, ever the humble, gracious man, falls right in line and gives great praise to Smith as a mentor, but I think it's time we all give Brett his due as his own man. He's different than Aaron. Maybe he's not the run-stopper Aaron was (who is?), but Brett is probably a better pass-rusher and might just be a better playmaker. He's also a more vocal leader, so he's not just Aaron Smith II, no matter how much that title may honor Brett.
You know, sometimes we all believe the humility stuff that's spewed by classy people, and I just hope we're not all buying in completely because Brett is a great player and leader in his own right.
So here's to 10 more years of Brett Keisel, and then to 15 years from players like Cameron Heyward and those Brett has and will continue to influence. It's a circle of success, this Steelers Way.
Well said Mr. Wexell and thank you so much!