Happy Dick LeBeau Month, Pittsburgh!
Posted On February 4, 2015
It's official…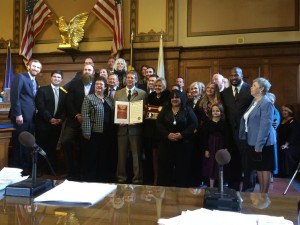 February is DICK LEBEAU month!
Happy Dick LeBeau Month, Pittsburgh!- Brett
From Scott Brown, ESPN.com:
Dick LeBeau is a Pro Football Hall of Fame player, one of the great innovators in NFL history, and a scratch golfer who regularly shoots south of his age.
As with football, he probably has forgotten more about history and music than most people will ever know, and the Renaissance man with the folksy touch displayed Tuesday morning his considerable skills as a storyteller.
With family, friends and two of his former players packed into the stately wood-paneled room where Pittsburgh City Council meets, LeBeau bid a poignant farewell, even if he stopped short of calling it that, right before he was presented with a symbolic key to the city.
And after City Council had officially proclaimed February Dick LeBeau Month in Pittsburgh, he neatly summed up the ceremony in four words.
"Pretty cool day, huh?" LeBeau said.
Brett and James Harrison attended the ceremony of their and long-time coach and friend.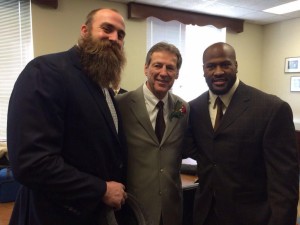 "Football-wise he'll go down as one of the greatest ever, but why James is here and why I am here is because of what he did for us off the field," Keisel said when the floor was opened for remarks following the proclamation of Dick LeBeau Month in Pittsburgh. "It was much-needed for a group of guys who were wild and crazy and could have easily went the other way. I'll forever be grateful for his influence in my life. I love you to death, coach."
More from Mr. Brown:
One of LeBeau's signatures while with the Steelers was his stirring reading of "'Twas The Night Before Christmas" every year at the team Christmas party. He borrowed from the last line of that timeless poem to close his 10-minute speech Tuesday morning.
"God bless you all, people of Pittsburgh," LeBeau said, "and to all a good night."
How do you follow up watching your friend get a key to the city?
With a post-ceremony work out, of course: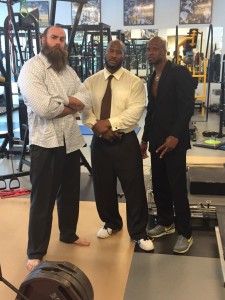 A little post Dick LeBeau ceremony workout with Ike and James. #Suited #NotBooted
View more photos HERE.
Quotes from the event:
LeBeau says 2008 Steelers defensive numbers may never be surpassed in today's era.
LeBeau on the best defense he coached being the Steelers with Brett Keisel,  Casey Hampton, Aaron Smith, James Harrison and Lamarr Woodley.
LeBeau waves Keisel and Harrison up as family and friends gather near lectern for proclamation of Dick LeBeau Month in Pittsburgh.
Keisel says he and Harrison attended LeBeau ceremony because of what he did to them off the field. "I love you to death coach."
Thank you to Scott Brown, Rick Dayton, Sally Wiggin, and Bob Pompeani for all their coverage from the event today.