Fans say thanks to 99
Posted On March 12, 2015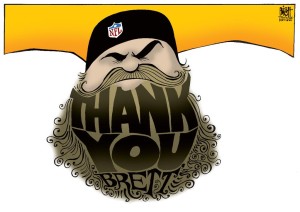 We have been sorting through literally thousands of social media messages on Twitter and Facebook. The support, love and loyalty toward 99 is amazing and greatly appreciated. Over the next few days (and weeks) we will post many of your messages and photos.
From Jim Wexell:
I ripped off this message board post from Randy Steele because it's SO Keisel:
Unlike most of the other regulars, Brett Keisel would often greet the fans  near the players' parking lot after Steelers' home games, even late at night.  Even better, I got to meet him a couple times. The first time I met him he came  over to me with a black Sharpie in hand and signed my No. 99 field jersey.  As I tried to thank him he then pounded me (hard!) on my chest and laughed.  It's not often you meet someone literally and figuratively bigger than life,  and who is also so incredibly effusive and approachable. God speed, Mr.  Keisel.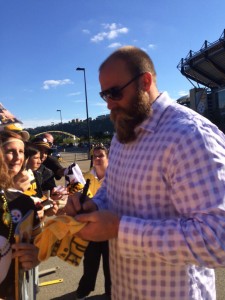 From Steeler560:
Brett Keisel would stop and talk to kids after almost every home game…deservingly a fan favorite!
Thank you Mr. Keisel for all you have done for Steeler Nation. In an era where sports figures are shown in a negative light, you my sir stand strong in a positive way. We went to many away games and you and a small group of players always took time to sign autographs for fans. In Cincinnati one year, you spent over an hour with fans-almost missing your dinner if I remember. Thank you from the bottom of our heart-broken hearts! – Sandy Trimmer
Brett, I do not have the words to express our gratitude to you and your family. Down to earth and "one of us" is the best way I can explain how we feel about you. You will always be "our 99". – Janet Ruby
Congrats on an amazing career with the Steelers! You are a legend here at #BYU. Best of luck from the #BYUFamily. #BandofBrothers! — Coach Kelly Poppinga,  Special Teams Coordinator/Outside Linebackers Coach, BYU.
We here at the LeDoux Twitter page want to wish our friend, Brett Keisel good luck in the next chapter. Let er' buck old friend. #FearDaBeard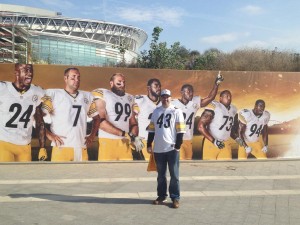 So gutted I'll never get to do this again. – Steven Reid
From Pittsburgh St. Pat's:
Luck O' the Irish to ya!  The World's Tallest Leprechaun, you must be, given all the good fortune ya brought us. Thank you.
Brett, thank you and your gear and website guys for all you do. You are a truly a classy professional guy and in talking with your crew, they are also. I am not a guy who can work online things as well as the youngsters, but I love your gear. The help I was given in ordering was top of the line. She was patient and helped me for over an hour. Top notch! – Larry Wilder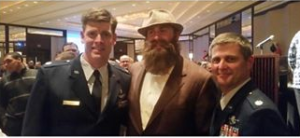 Thank you Brett for being a "Once in a Lifetime" player and for supporting our troops! – Operation Once in a Lifetime