Children's Champion – Brett Keisel
Posted On May 31, 2017
From the Children's Hospital of Pittsburgh: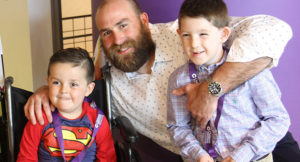 Twelve seasons with the Pittsburgh Steelers, two Super Bowl rings, and one famous beard have made Brett Keisel a hometown favorite. But for the kids at Children's Hospital, he's more than just a famous football player. Brett is a champion and his kind heart has brought smiles to hundreds of kids in the hospital.
Inspired by the resilience of sick and injured kids, and a teammate's personal connection to the hospital, Brett decided to plan a fundraising event that would benefit cancer patients at Children's Hospital. In true champion fashion, Brett created a one-of-a-kind fundraising event called Shear Da Bear where he would shave his famous beard with a little help from his teammates, coaches, and Pittsburgh professional athletes. Seven years later the annual event continues to grow, and to date has raised an astonishing $400,000 to support the Division of Pediatric Hematology/Oncology at Children's.
In 2016, Brett accepted another important role at Children's: Emcee of the Walk for Children's Patient Medal Ceremony. The event kicks off Walk for Children's and gives kids who cannot attend the walk a chance to receive their patient medal. In both years, Brett announced several patient champions, sharing their stories and granting each child with a medal.
A true champion for Children's, Brett's kind heart and friendly personality have touched many kids at our hospital with these two annual events, many hospital visits, and constant support
Whether or not you have a Super Bowl title, there are many ways you can also be a champion for kids at Children's such as planning a fundraiser, attending an event, or becoming a volunteer.
Donate to Children's.
Read more about the great work being done at Children's Hospital.