Keisel Claus in Da House
Posted On December 20, 2014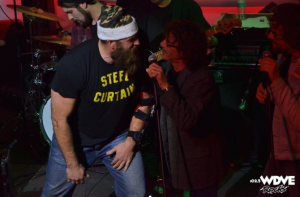 Keisel Claus made an appearance at the WDVE Morning Show Christmas Party, held at Diesel Club Lounge in Pittsburgh, PA.
The crowd went wild chanting "ONE MORE YEAR" as Brett took the stage. Thanks to WDVE's Randy Baumann for the video footage.
From Jim (@jmast51): "Brett Keisel killed at the DVE Christmas party!"
View a few photos of Keisel Claus (courtesy of WDVE) HERE.
You can also view more photos from the party, HERE.
Thanks to WDVE, and to all who sent photos!
Watch Brett and the WDVE crew singing "Santa Claus is Comin' to Town".