News and Notes
Posted On November 24, 2014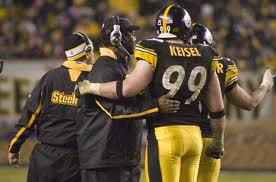 A few news and notes from the Steelers Bye week:
From Mike Prisusta, Steelers.com:
Mitchell assesses progress of D- Line:
Assistant head coach/defensive line coach John Mitchell offered up a bye-week update on several of his players:
On Brett Keisel: "Brett is like having a coach on the field. He has played extremely well. He had two big knock-downs (passes defensed at Tennessee). Brett plays well every week. Brett's a coach. I don't worry about Brett Keisel.
We want to get better," Mitchell stressed. "Brett Keisel has to get better. Cam Heyward has to get better. The whole bunch has to get better. The better they get in practice the better they're going to be when we play."
And, from Teresa Varley, Steelers.com:
Steelers' players weigh in the home stretch of the season, which includes games against the New Orleans Saints at Heinz Field, at Cincinnati and Atlanta, and then home games against Kansas City and Cincinnati.
"You know you need to go all out. You only have a few games left and you know it's go-time. That is how we have to approach it. We have to really dig our toes in and get to work. It's an important time and we have to make sure we have urgency." — Keisel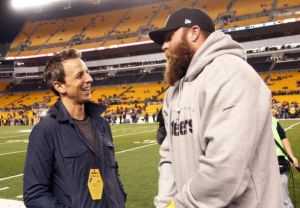 Brett had a great bye week break, but was happy to be back practicing:
Had a GREAT bye week thanks to Seth Meyers! But, it was nice to get back on the grass today.