Huge division WIN
Posted On December 8, 2014
Steelers 42, Bengals 21
From Scott Brown, ESPN.com:
The Steelers improved their position in the AFC North immeasurably by winning a shootout and improving to 8-5 while dropping the Bengals to 8-4-1. The offense overcame a slow start to overwhelm the Bengals on their own turf as Cincinnati could not stop Pittsburgh's balanced attack. Running back Le'Veon Bell rushed for 185 yards and scored three touchdowns and Ben Roethlisberger picked the Bengals apart after throwing for just 19 yards in the first quarter.
Bob Labriola was right:
The power of Da Beard? Brett Keisel makes the trip to Cincinnati with team.
Da Beard encouraging the D Line: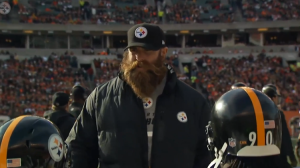 Keisel was on the sidelines encouraging and game planning with his teammates. Watch HERE .
It was tough not seeing 99 on the field, but it was awesome to see him on the sidelines cheering his teammates on to victory!
Fans were thrilled to see him there too…and to nab his autograph: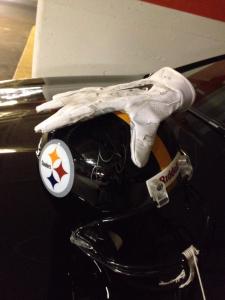 Brett Keisel's John Hancock and Le'Veon Bell's game used glove! It was an honor meeting the Bearded Wonder! Great man, thanks for the signature ! — Andrew Fiala
It was also great seeing so many fans wearing their 99 jerseys and Da Beard Gear! #99strong!