Winner, winner….
Posted On September 20, 2015
The winner of the Brett Keisel Gotham Rogues jersey is…
JEFF "The Goat" HOLLAMBY!
Jeff said he's "grinning ear to ear."
Congratulations Jeff! And, thank you to ALL who entered to win.
Wishing Da Beard Happy Birthday…
Happy happy birthday Musky!! Love you forever. Have fun being back home!! – Mom
Happy Birthday Brett – and congratulations to the 919th!!! – Becky Groom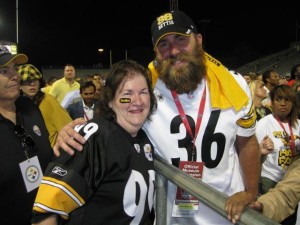 Becky attended the HOF Ceremony last month and sent this email:
Finally after all these years I got a picture with Brett. I was hoping I would get close enough for a picture as he walked by but he spotted the 99 jersey in the crowd and walked over to me. I must say I was speechless!! My husband and I had an awesome time at the Hall of Fame ceremony – but getting this picture was the highlight for me. I'm sure going to miss not seeing Brett on the field this year. I've been watching for an announcement as to his plans but haven't seen anything. I would hope the Steelers organization would welcome him in some capacity. He certainly is a great ambassador for the team!
Happy Birthday, Brett. (You're still my favorite . Don't tell the others). – Sarah Nicholson- Haines
Happy Birthday, Brett!! Hope your year ahead is full of adventure, family, faith, fun, and friends. Love from you favorite fans from Arizona – Amy Shorr Staff
Please tell Mr. Keisel that his Bearded Beauties hope he has a fantastic birthday and thank him for giving my mom a kiss at the Steelers 5k.(it was her 65th birthday the day before AND her first ever 5k) It made her day! We are so thankful that he is so approachable by his fans.
I hope he's enjoying retirement. – Dawn Conley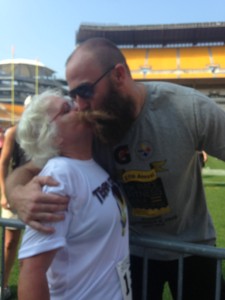 And, from her mother:
Returning my birthday kiss he gave me at the Steelers 5K! Bonnie Liska for the Bearded Beauties. XO
Happy birthday to one of the most caring and thoughtful souls in the NFL! You do so much for the community and charities. I hope you get back everything and more of what you give. You deserve it! Have a great day!- Nancy Segrist
Just want to wish Brett a Happy Birthday from the Murphy family. God Bless & Goooo Steelers! – Jay Murphy
Happy Birthday to the classiest athlete I know!  – Jimmy Tucker
Happy Birthday!! Saludos desde Mexico! — La Magia Del Foami
Happy Birthday Da Beard! Your on the field plays will be greatly missed, but I will remember you even more for all you do off the field. I can't think of another athlete who does more for fans and for kids. Can you do Shear Da Beard this year? — Tanya Evans
Happy Birthday from Burke and our whole family! — Jamie Lee
I am so appreciative of all Mr. Keisel does for his fans. He's so outgoing and approachable which seems to be rare these days. He's awesome on social media and his website is always so positive and supportive of his teammates. Class act! – Mike Seemus
Thank you for the amazing contest. I probably did not win, but was so excited to see the prize. Love it! — Summer Terry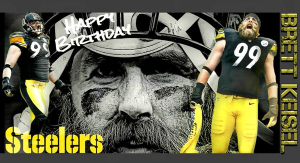 Wishing 2X Super Bowl Champ "Da Beard" Brett Keisel a  Happy BDay! Lots of happiness & blessings to you! #SteelersNation — Positively Pittsburgh
Thank you for all the emails, tweets and messages wishing Brett a very Happy Birthday! We could not post them all, but they are all appreciated!
Brett has the greatest fans!