Teammates, family, friends and fans show up to support DaBeard
Posted On February 12, 2016
As in years past, Brett's teammates, friends and fans showed up in a big way to support DaBeard and Children's Hospital.
View LOTS of great photos HERE.
Teammates: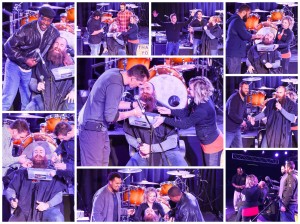 Cam Heyward, Ben Roethlisberger, Heath Miller, James Harrison, Jerame Tuman, Shaun Suisham, Neil Walker, Maurkice Pouncey, Chris Hoke, Aaron Smith, Coach Mitchell, Greg Warren, Matt Spaeth, Charlie Batch and Kelvin Beachum–and more.. all took turns getting their "swipes" on!
(Photos: Randy Baumann and Steelers.com)
Freshly shaven Brett couldn't miss a chance to do the pose with his teammate, Charlie Batch!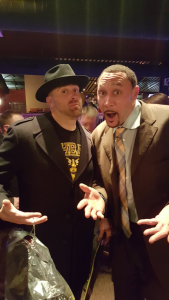 Family of 99's: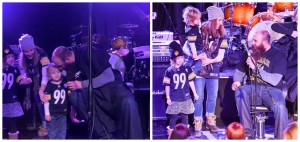 Brett's lovely wife, Sarah and his kids are eager to take their turns!
Friends:
Pittsburgh kid, Neil Walker was thrilled to attend and support Da Beard!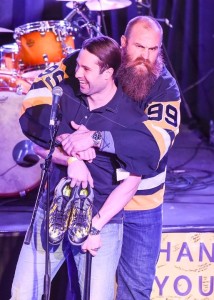 Brett Keisel rockin' out at his shear da beard event! Awesome night raising money for children's hospital!!- Neil
Keisel in a Pens jersey and Neil Walker PITTSBURGH YINZER OVERLOAD! #ShearDaBeard – Bill Crawford, WDVE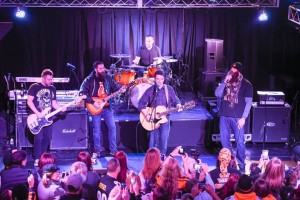 Randy Baumann and the WDVE crew are always on hand to support!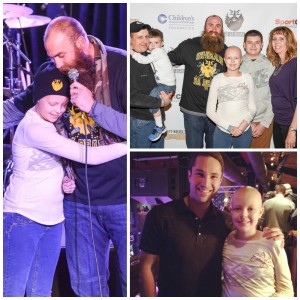 Brett's new friend Jayme was a big hit! She was also able to snag a photo with her pen pal, Neil Walker!
And, the fans…oh the fans!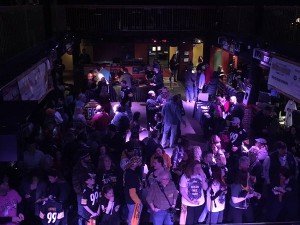 Steeler and Da Beard Nation always show up, and Shear Da Beard was no exception!
From Justin Dibble: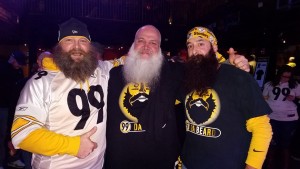 "Sam Pack from Keisel's Korner and The Goat at shear da beard 6!!!!! Thank you for putting on a great event!! It was an honor to be a part of it!!!!"
And, from Jeff "THE Goat" Hollamby (middle):
"I just want to thank you for acknowledging me as THE GOAT last night at Shear Da Beard 6. I'm a simple fan who admires everything you stand for, especially all of your charitable work off of the football field. I meant it when I told you last night that you are a class act. When you called me out in your freestyle ending of Wagon Wheel, it truly made my night. Thank you Brett, keep up the good work and I'll see you next year at Shear Da Beard 7. "
Winner, winner…and a selfie!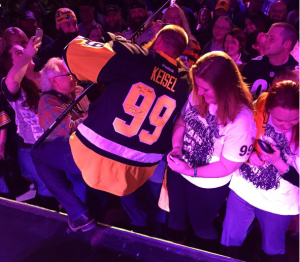 Brett Keisel takes a selfie w/winner of Live auction package; Signed Keisel Pens Throwback an Malkin Game used gloves and stick. Huge crowd to shear the beard!! – Randy Baumann