Ravens 30, Steelers 17
Posted On January 4, 2015
The Steelers lost to the Ravens last night in the Wild Card round. Read about the game HERE.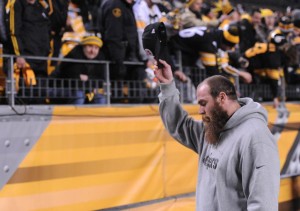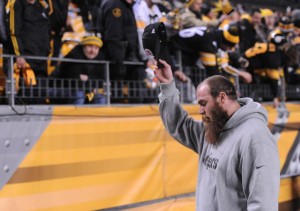 From Scott Brown, ESPN.com:
Nothing better symbolized how crushing a season-ending loss can be than the sight of defensive end Cameron Heyward hugging Brett Keisel before the latter left the Steelers locker room at Heinz Field for perhaps the final time. Keisel missed the last four games after sustaining a triceps injury and there is a question of whether the Steelers will bring the veteran back for a 14th season.
Heyward wanted to win for Keisel, who has been his mentor, and he had a hard time letting go — both literally and figuratively — as Keisel exited the locker room after the Steelers' first playoff loss to the Ravens. "He's meant so much to me," said Heyward, who had wiped away tears after a long embrace with Keisel. "It just sucks going out this way. I'd love to have him back but we just don't know what that entails."
Brett, at this time, has not discussed his future . We greatly appreciate ALL of the emails, messages and Social Media posts wishing Mr. Keisel well. Steeler Nation is truly the best!
View a few photos HERE.
Listen to Keisel give a pre-game speech to the D-Line in the Steelers "Sights and Sounds" from the game.
Brett takes time for our troops:
"Big thanks for the photo last night!"- Thomas Weir