Rally 'Round The Family
Posted On January 13, 2018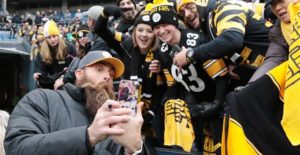 From Jim Wexell, Steel City Insider:
There was a nice song out about 20 years ago, a folk song I believe, that advised us to "Rally 'round the family with a pocket full of shells."
Sweet song by a sweet band, but it's something football players often do — although most times without the shells.
Brett Keisel recalled that when his teammates did it throughout the decade past, they won championships.
And he sees that potential in the current team.
"Being done with football and being able to look back on what we accomplished, the biggest thing was our team was unified and determined," said Keisel, a defensive end on Pittsburgh's last three Super Bowl teams.
"When it gets that way, there's a lot that can go right when all of you are on the same page. These guys now, they have so much to play for. Not just their season but all of the situations that they've overcome throughout the season, playing for their brother, 50, Ryan, right now. When you have the extra determination, when you have that extra push, like we had for Jerome, like we had — in my opinion — for Aaron Smith and his son Elijah in 2008, when you have those things, you find that extra gear that you need in the fourth quarter, and hopefully these boys are ready."
These boys, of course, are playing for Ryan Shazier, who went down with a spinal injury on Dec. 4 and remains in a wheelchair. Shazier showed up at practice this week and on Thursday did exhibit an ability to move his legs. But he's struggling through a rehab that's left teammates awestruck and emboldened by his determination and attitude.
These Steelers have their purpose, and have said so with a bravado that many NFL fans believe is too strong and looking too far down the road.
Too bad, they say in response, because at this point the Steelers are tired of playing by proper media etiquette.
Keisel couldn't agree more. His closest friend on his team, Smith, learned in the middle of the 2008 season that his four-year-old son had leukemia. Smith wasn't going to play that first weekend, but when he ran out of the tunnel, arms flailing in seeming response to a world crashing down on him, there wasn't a dry eye at Heinz Field.
The Steelers won nine of their last 10 games to sweep through a Super Bowl championship, the last the franchise has won.
Smith, 32 at the time, was playing his last full season in 2008. Like Cameron Heyward, he was a player more appreciated by teammates than the rest, who selected Smith to only one Pro Bowl in his brilliant 13-year career.
"Aaron is, in my opinion, the greatest player to ever have worn black and gold," Keisel said. "That dude, when he was in his prime and playing, was literally an immovable object. He didn't say a lot, but you talk about looking across at him and knowing that you're going to get everything he's got. And that's what it takes. Everyone needs to have that trust and belief in one another, that I'm going to give you everything I've got and we're ready."
The Steelers to a man were panicked by the diagnosis of Smith's son, because of course no one knew how things would turn out. And so they rallied around the family.
"At this point you don't know. You don't know what the future's going to hold," Keisel said. "We made the Super Bowl and Elijah and their family were able to get accommodations to make sure that everything was safe for them to be on the trip, but, yeah, you don't know what the future holds, and that whole stretch from October until the end, I don't know how Aaron did it. There were so many things he was going through. But your teammates, your brothers, they rally around you and it becomes a motivation for them and they want to be there for you. They want to do everything in their POWER, you know, to help them overcome this.
"I just, I really feel and hope that this team has that same thing right now with all the obstacles they've had to overcome, and doing it for Ryan, and Mr. Rooney's passing, you've got to hope that the chips are aligned."
One might look back at the New England loss last month, though, and wonder. The Steelers had a chance to beat the Patriots and secure the No. 1 seed in the playoffs, but the ending went horribly wrong and had to leave players wondering, "Where are our chips?"
It went unsaid, of course, but it is the eternal question when times seem darkest.
"Yeah, but that's one of those crazy things that you have to hope and look back and say there was a reason it happened," Keisel said. "If they do meet New England again, that's when it really matters and that's when all the chips ARE on the table. Hopefully, we do get a call here and there."
Keisel played in two AFC Championship games under Mike Tomlin and recalled some key moments in each playoff run. The first was against Baltimore in January of 2009. The Steelers had taken a 13-0 lead, but the Ravens inched back to within 16-14 and had the ball. They were facing a third-and-13 from their own 29 with 4:39 remaining.
"You get in those situations in the end," Keisel said, "and you know that the time has come, that you have to stand up, you have to make a play, everything's on the line. You are nervous but you trust in your teammates. You trust in your strategy, your plan. You trust in your preparation during that week. And you understand literally in these games it can come down to one play. Who's going to make that big play? Who's going to make that game-changing play? In this case, Troy made that huge play and it just completely flopped it to our side, where it was something they couldn't recover from."
Troy Polamalu, of course, returned an interception 40 yards for the game-clinching touchdown. It sent the Steelers on their way to their sixth Lombardi, but more importantly it allowed them to complete a promise they had made to a four-year-old.
Two years later, the Steelers were playing the same game, this time against the New York Jets, who had rallied back from a 24-0 deficit and at 24-10 were looking to make a genuine fourth-quarter run at the Steelers with a first down at the Pittsburgh 2. The Steelers allowed one yard in four plays as the fourth-down run by LaDainian Tomlinson was stopped by Keisel and Casey Hampton.
"It was one of Tomlin's quotes where 'If we have a blade of grass, we're going to defend it,'" Keisel said. "You're going to get caught in situations where your back's against the wall and you don't know if it's going to be that game-changing moment right then, but you have to act and react as if it is. Hamp in the middle, there wasn't anybody better in the world, either. He could take on three, four guys in the middle and somehow hold ground. I just probably slipped through a crack somewhere, or maybe laid on the pile and got credit for a tackle, but it was one of those things where you practice it in training camp. I mean, it's an offensive and defensive drill in training camp but it has weight and it has meaning, and if you get pride in yourselves in those situations, and if you get pride that you're not going to let them in no matter what, it can turn out to save the game maybe."
These are legitimate pearls from a been-there-done-that guy.
Keisel has to be excited for this team because he's emptying all chambers.
One more player came to his mind, in terms of the AFC playoffs. Rookie wide receiver Antonio Brown came through with huge catches to cement wins against the Ravens and Jets in the playoffs following the 2010 season.
"That's the first time he caught a helmet ball," Keisel said. "I remember just that kid, a young kid, late-round pick, how tough he was for us down the stretch. And that's what these guys are going to need from JuJu and T.J. I know this is a big moment, but they have got to continue that elite play. Those young players have to continue to be a force out there and to be someone that is making plays for the team."
JuJu Smith-Schuster, of course, is being groomed for a primary role Sunday against Jacksonville because Brown is questionable after sitting out the last two-and-a-half games with a calf injury.
T.J. Watt, the Steelers' other prize rookie, sent James Harrison packing in a move that still has some fans angry.
Rally 'round the new family.
By the way, Brett, how often do you see Hampton?
"I see Hamp every year," he said. "I just sent him a box of ox tails for the New Year. I got some cows that I butcher and of course Hamp's favorite thing is the ox tail, so I just shipped him some. Gotta look after my guy."
And Elijah Smith?
"Elijah's doing great. I swear he's about six-foot tall. It's unbelievable. It was great to do the towel twirl with Aaron at the Patriots game and see his family, how big and beautiful they are. It's crazy, because we all came into this game and we had kids at kind of the same time and it's just awesome to watch everyone growing up."
Come wit it now.
"That's probably the greatest thing I take from being a Steeler is the family part of it," Keisel concluded. "That's what lasts forever. I think that's why there's such a great success rate with the Steelers is their family values behind everything they do. Like I've been talking about through this whole thing, Wex, these guys will be family with me until I'm off of this earth. That's what's special about them."