Lucky to have LeBeau
Posted On January 11, 2015
Dick LeBeau has resigned his position with the Steelers:
"I'm resigning this position, not retiring. I had a great run in Pittsburgh. I'm grateful for all the things that have happened to me and thankful for all the support I had in Pittsburgh." — Coach LeBeau, from his interview with Steve Stout, Urbana Daily Citizen.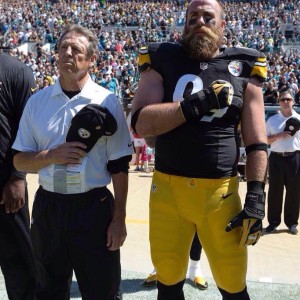 How lucky are we!? HOF player, World Champion, and ALL WORLD PERSON! Thank you my friend, my coordinator, MY COACH. — Brett
Will Graves, AP Sports Writer :
If you don't want to be Dick LeBeau when you grow up, you're doing it wrong.
LeBeau had been with the organization for 16 seasons, including serving as defensive coordinator from 1995-96 and from 2004-14. He was also the team's secondary coach from 1992-94. In his 13 years as defensive coordinator the Steelers have finished in the top-five in total defense 11 times, five of those times the team had the top overall ranked defense.
In his 13 seasons as the Steelers' defensive coordinator, the team won seven division championships, four AFC Championships and two Super Bowls, while making the playoffs a total of nine times. (Steelers.com)
To say Coach LeBeau is loved by his players is an understatement. He was affectionately referred to as "Coach Dad" by the players.
The NFL is better because of Dick LeBeau, the players he coached are better men because of Dick LeBeau. – From NFL Draft Bible, following LeBeau's Induction into the Hall of Fame.
Just heard Coach LeBeau is out as Steelers DC. A true living legend, and great person. He'll be missed, because he was more than a coach. — Max Starks, former Steeler.
What a sad day… Coach LeBeau resigning from the Steelers. He was simply the best! — Chris Hoke, former Steeler.
It's a sad day for football, Pittsburgh, for me! Won't seem the same! — Ryan Clark, former Steeler.
When Mr. LeBeau was inducted into the Hall of Fame, the team accompanied him to show their support.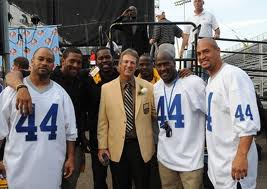 From our August 7, 2010 post:
The respect the Steelers organization and players have for Coach LeBeau was clearly evident in Canton tonight. The Steelers shut down training camp and traveled by bus to Canton to watch their coach and friend inducted in to the NFL Hall of Fame. Many defensive players, including Brett, wore LeBeau's jersey to honor him.
If you missed Coach LeBeau's speech, you can click here to watch it.
Trust me, it was a genuine from-the-heart speech. He found a way to encompass his whole career, mentioning so many of his teammates, players and coaches. It is easy to understand why his players are so unselfish..they learned it from their coach. A truly classy man.
"Ah, man. It's such a blessing to be a part of something like this. Coach LeBeau means so much to all of us. For the Rooneys to allow us to come here tonight, it's just incredible." — Keisel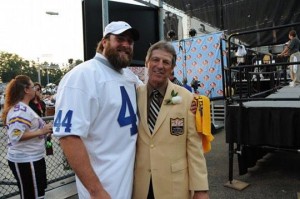 "To be able to have his influence in my life the last nine years has been one of the biggest blessings in my life. We all love the guy to death and we are just blessed to be part of this. It's been a special night I mean Coach not only was he a great player, he's also a great coach. On top of that he's a great man." — Brett, from a 2010 interview.
Highlights from LeBeau's amazing Hall of Fame speech:
Man, this really is a great day to be alive (smiling). Here we are. I'd like to thank my mom and dad for creating the family environment that led an ornery young guy grow up and maybe someday allowed to have a weekend happen for him like is happening right now. Thank you, mom and dad.
Guys ask me, Coach, what's the perfect 3-4? Who would be the very ideal people at each position? I said, Well, really, truthfully, you start with Casey Hampton, Aaron Smith, and Brett Keisel on the defensive line. Really, seriously. Not only the great players, they're totally unselfish.
As far as my playing ability, I was known as the guy who was just going to come to work every day, I was going to play hard every day. Might not always play good every play, but I was going to play the next play as hard. I learned that from London, Ohio, a small town about two hours from where we're standing. Honesty and hard work, that's about all they value down there. It sure has stood me in good stead.
I'll leave you with one thing. Life is for living, folks. Don't let a number be anything other than a number. Don't let somebody tell you that you're too old to do this or too old to do that. Stay in life. Life is a gift. It's a joy. Don't drop out of it. Don't let somebody else tell you and don't let your mind tell you.If I would have gotten out of my life's work at 65 or 67, when they say is the age of retirement, here is what I would have missed, folks. I would have missed not one but two World Championship football teams that I got to be a part of. That's these guys over here. I got to be a part of a No. 1 defense that statistically had the lowest numbers in the last 35 or 40 years. I had my number retired from my high school. Had a building named after me in my hometown. I made the Detroit Lions all 75 year team. I was accepted into the Ohio State University Athletic Hall of Fame. Now tonight I guess when I sit down, get off this speaking, which I'm gonna do, I'll be in the NFL Hall of Fame.
My mother always said, Onward and upward, age is just a number. God love y'all. Thank you.
Watch his entire specch here.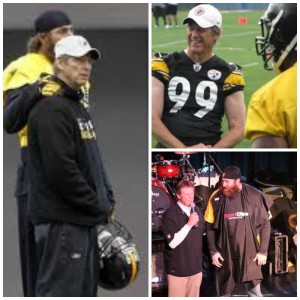 The Steelers were blessed to have Dick LeBeau for 13 (total) seasons. His departure certainly announces the end of an era for players, coaches and fans.
We salute Coach LeBeau for his many contributions and accomplishments, both on and off the field. Thank you for the great defenses, AFC Championships and Super Bowls. More importantly, thank you for helping to mold some of the best football players on the field and best men off the field. Classiest guy ever!