Keisel: 'Our fans are the best in the world'
Posted On December 26, 2014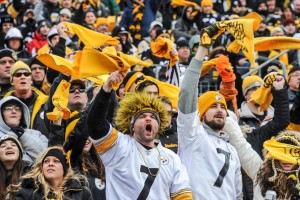 Steelers to say 'Thank You Fans' on Sunday with prizes and giveaways before and during the game. Arrive early and be ready for the huge AFC North showdown.
From Teresa Varley, Steelers.com:
The AFC North title will be on the line Sunday night when the Steelers host the Cincinnati Bengals at Heinz Field, and the atmosphere will be electric.
Steelers' fans are encouraged to arrive early for the 8:30 p.m. kickoff, and wave their Terrible Towels at kickoff when a nationwide audience will be watching, showing the world why Steelers fans are the best.
The support of Steelers' fans all throughout the year is a huge boost to the players and coaches, and on Sunday night the organization is showing their appreciation for fans as it's the 'Thank You Fans' game.
Read more about the "Tribute to Fans" and the amazing prizes YOU could win by attending the game HERE.