Keisel: " I salute you brave women and thanks for your inspiration"
Posted On October 15, 2018
PINK all around!
Brett and WTAE's Kelly Frey stopped by Magee- Womens Hospital today to visit with some VERY special people!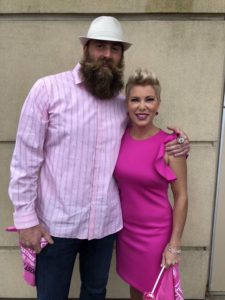 I learned so much about tough women today. I learned about pain, ports, surgery, and describing chemo as "feeling like a animal is being turned loose inside your body". I salute you brave women and thanks for your inspiration Kelly Frey! #Warriors #Fighters #Champions

Brett got the Black N Gold (and pink) loving fans going after the big Steelers win:

Meeting some incredibly strong women:

Thanks to Brett and Kelly!

Ringin' that bell-update:

It was about a year ago that you were there to help my sister ring the bell! She's still cancer free and doing well! Your presence and contribution to the battles being fought are greatly appreciated!!! ? – Michelle Zulick Huff

Visit Magee on Facebook for more great photos and video!