Bye, Bye Beards
Posted On February 16, 2019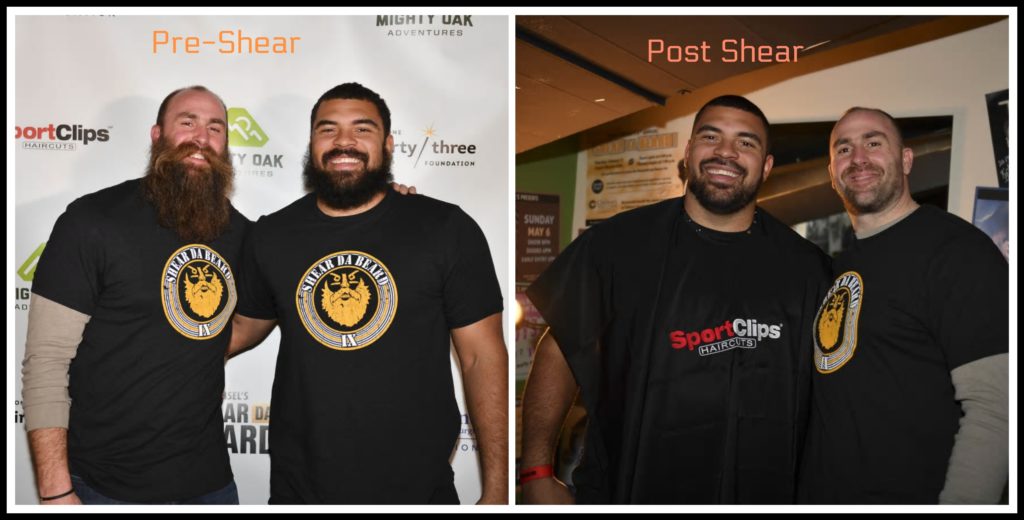 From Teresa Varley, Steelers.com:
Brett Keisel is a mountain of a man, with a beard to match.
"I meet people, strangers in airports, guys with big beards just walking around town," said Keisel. "You kind of give an acknowledgement, like I see what you've got going. Looking good. It's all for fun and to just get to not shave…it's a glorious thing."
Well, until now that is.
For the ninth straight year Keisel shaved off his beard to benefit the cancer programs at UPMC Children's Hospital of Pittsburgh at Shear Da Beard, joined this year by Cameron Heyward, who also said goodbye to his hairy beard.
On Friday night the two transformed themselves, looking crisp, clean and baby faced without the wild facial hair.
"It feels good to shave it," said Keisel. "But it won't be gone for long. Usually the growth begins for the next year right away, the next day. It's called 'The Yeard.' You just push through for the year. That is what I committed to. Occasionally I will trim a few, a few times I have had to pluck a few hairs. But for the most part it's just going wild from one Shear Da Beard to the next Shear Da Beard."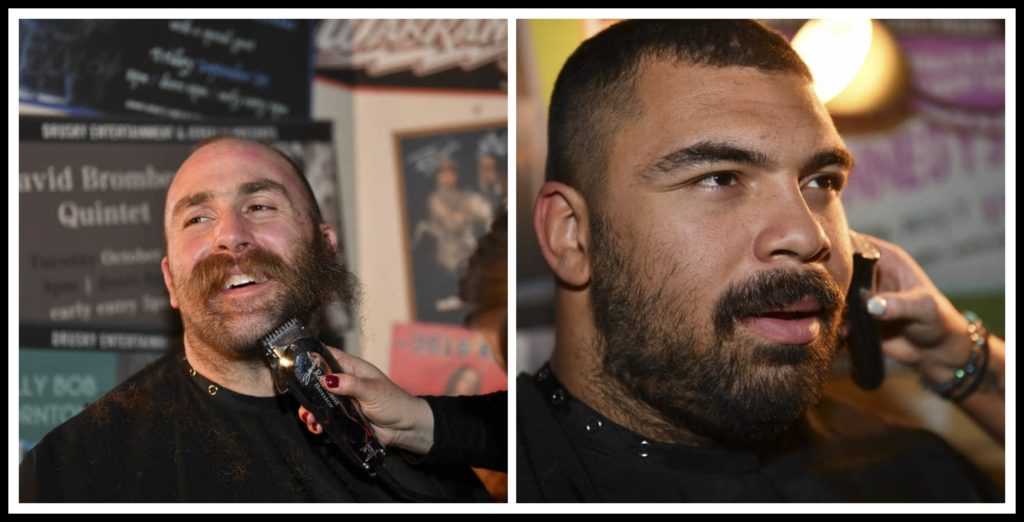 Heyward, who referred to his beard as the 'baby beard' compared to Keisel, started to grow his beard a little later than Keisel, opting in during training camp.
"There were times during the season I wanted to cut it," admitted Heyward. "I get superstitious a little bit. I made him a promise. He said I could trim it up every now and then, but I had to keep the girth coming. It's taken on a life of its own. My wife loved it. My kids seemed to pull on it. They must have loved it as well. But it was time for Papa to get that thing off."
Keisel began to grow his now famous beard back in training camp in 2010, in an effort to get the Steelers back to the Super Bowl after winning Super Bowl XLIII two years prior. It worked, but only to an extent. The Steelers made it to Super Bowl XLV, but lost to the Green Bay Packers.
Keisel was as disappointed as anybody after the Super Bowl loss, but he wanted to do something, wanted to end things on a positive note. So he decided to shave off his beard, in public, for charity. What started on a whim has grown into a sold out event and a beard that has taken on a life of its own, something that still surprises Keisel.
"It is surreal a little bit," said Keisel. "At the same time living here since 2002, I understand this community. I understand what Pittsburghers are made of. You get to see awesome makeovers like mine, and Phil Bourque was so awesome to help out last year. Everyone gets on board. We all support each other. The guys come out and help cut a piece off.
"This year having Cam, who I have just been so proud of, offer to grow his beard and do this weird thing we have going here, it's something that means a lot not only to me but kids that are fighting cancer and families that have children going through the thigs they are going through. It gives them hope and that is what this is all about."
Giving hope is something that means the world to Keisel. He is a frequent visitor to Children's Hospital, spending time with the kids in the cancer ward giving them the encouragement they need, spreading love wherever he goes.
"We have tried the last few years to really show what the event is about, having representatives from Children's Hospital there, have kids there who have had chemo that day," said Keisel. "That really puts a face to the event and why we are doing what we are doing.
"Being in an NFL locker room you see tough men every day. You are around them every day. You watch them work every day. You see how tough they are. You step into that hospital and you see what the kids are going through, the things they have had to deal with. No reason for having it, just something they were born with, going through these things. There are times when they could just say I don't want to fight anymore, I don't want to do it anymore, and they don't. They have more fight than I have seen from players in the fourth quarter when the chips are down. It's something that resonates deep in me. I have said numerous times there is no way I can repay the things they have taught me or the lessons I have learned from them, no matter if I do 10 million Shear da Beards."
Heyward is right on board with that sentiment. The combination of his respect for Keisel and his connection to Children's Hospital, made this a no-brainer.
"Brett has been a role model to a lot of guys," said Heyward. "It was my job to watch him, learn from him. He set a great example. He continues to set a great example. Even being done with his football career exploring opportunities to give back. That speaks of the type of man he is and how he cares about people other than himself.
"It's awesome that Brett has brought this many people together to watch people shave beards. It speaks to the man he is. It speaks to the community. I am lucky enough to be a part of it.
"It was already easy saying yes to Brett. Working with Children's Hospital like I have, developing a relationship over the years, I know how much they give back and care about those kids. Whatever is necessary I want to be able to do. It's a blessing that keeps giving back."
It was only fitting that Keisel and Heyward joined forces this year, because the two have a similar mindset.
"I don't take for granted the position I am in or the impact I can have," said Keisel. "It really runs deep in me, trying to give back around here. I feel like I have been given so much from the fans, the people I run into. Everyone. Even to this day I will meet people who come up to me and they will want to shake my hand or pat me on the back. That is an awesome feeling. I try to do that to people, just out of randomness. Random acts of kindness.
"There is a lot of negativity out in the world today. It's important for us to shine the light and be good and look out for each other and take care of one another and educate ourselves on one another. We are blessed to be in such a diverse community here in Pittsburgh. I don't look at that as a weakness. Diversity strengthens us. It was no different with our team. With the Steelers we had guys from all over, different countries, different skin colors, but we were fortunate because we all put any differences aside and came together as one. That is why I love this community because I believe we can do the same thing."