Keisel: 'Believe in Yourself'
Posted On May 19, 2016
Believe in yourself. You have to… you have to. If you don't believe in yourself, how do you expect me to? How do you expect your teammates to? How do you expect anyone to believe in you..if you don't believe in yourself. – Brett 
From Jeff Maurer, DailyAmerican.com: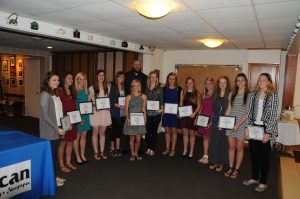 Sports Achievement Awards Banquet held in Somerset; Brett Keisel attends…
By all accounts, the inaugural Daily American Sports Achievement Awards Banquet was a huge success.
Nearly 200 people attended the luncheon Tuesday at Oakhurst Tea Room to celebrate local student-athletes and hear keynote speaker, former Pittsburgh Steeler Brett Keisel, deliver an inspirational speech.
The event was organized and sponsored by the Daily American, along with Somerset Trust Company and Penn Highlands Community College.
Awards were presented to one male and one female scholar athlete chosen by each school in the county and the top male athlete, top female athlete, top coach and top team, which were nominated and voted upon by Daily American readers.
"I actually don't think the event could have gone much better," said Daily American General Manager Becky Flyte. "Brett Keisel was an excellent speaker. I think the audience really enjoyed his comments. It was very inspirational for our student-athletes. It was a great venue to honor our student-athletes who have dedicated so much of their time to their studies and their athletics. We were very pleased. We had a lot of participation from our readers, both in the nomination process and the voting process as well."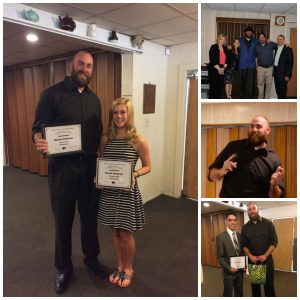 Keisel, a 13-year NFL veteran and two-time Super Bowl champion, talked about his time with the Steelers and growing up in a small town in Wyoming, much like the small communities that make up Somerset County.
"I truly have come to love this area," Keisel said. "It reminds me so much of back home. It's beautiful out here (in Somerset County). I am incredibly honored and humbled that they chose me to come and speak to you today."
Keisel emphasized the importance of playing multiple sports while in school despite a time where specialization is becoming more and more popular.
"If you are a great wrestler, that is going to make you a better football player," he said. "If you are a good basketball player, that is going to make you a better football player or swimmer. … Being part of a team and learning discipline and learning to be accountable; all these wonderful lessons are taught in sports."
Keisel passed around one of his Super Bowl rings for the student-athletes to see.
"DO NOT LOSE THIS!," Keisel joked as he gave the ring to the young men and women, who marveled at his prized possession.
Keisel, who spoke for about 20 minutes, also posed for photos and helped hand out awards.
Hannah Sembower, a soccer standout at Somerset Area High School, was named the top female athlete. She beat out Courtney Schrock of North Star and Beth Felix of Johnstown Christian School in the voting.
"It feels great," Sembower said. "I'm really appreciative of everyone who's helped me along the way. I'm really appreciative of the Daily American, Penn Highlands and Somerset Trust for making this event possible. Brett Keisel, he's a great guy. When he high-fived me, that made my day. It's was an awesome day, a great banquet. Thank you to everyone."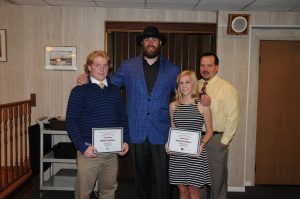 Berlin's Braden Fochtman, one of the region's top running backs and a state placewinner in wrestling, earned the top male athlete award. He prevailed in the voting ahead of Somerset's Dylan Barnes and Jacob Heiple.
"It's definitely an honor," Fochtman said. "Being here today and being able to be a part of this was awesome. To see Brett Keisel and knowing that he came from a very small (high) school similar to where I go, it definitely sparks some dreams that I have. I want to thank everyone who voted for me and it's truly an honor that you guys think I'm the best athlete in this county."
Berlin head football coach Doug Paul was voted the top coach ahead of Somerset boys soccer coach Mark Wassilchalk and North Star girls basketball coach Randy Schrock.
The Berlin football team also garnered the top team award. The other nominees were the Somerset boys soccer team and the North Star girls basketball team.
"This was a great event," Paul said. "We want to thank the Daily American so much for coming up with this idea. It's great to see teams and athletes get honored, but especially the student-athletes, academically. Brett Keisel's speech today hit the nail on the head for every young athlete in here about facing adversity and chasing your dreams. It's a message even us as adults can use. It was a very-well put together event and we very much appreciate it."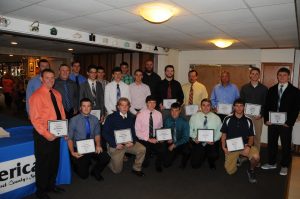 The scholar-athletes from each school were:
Berlin: Alexandra Davis and Brentson Harding; Conemaugh Township: Abigail Roberts and Michael Roman; Meyersdale: Katharine Bolden and Ben Helinski; North Star: Dillion Charlton and Courtney Schrock; Rockwood: Emily Barchey and Tyler Scott Bontrager; Salisbury: Ross Mazer and Brynne Kemp; Shade: Aaron Fyock and Emma Spinelli; Shanksville: Baily Blackburn and Sarah Dining; Somerset: Mike Ream and Hannah Sembower; Turkeyfoot: Connor Tressler and Makenzie Wheatley; Windber: Michael Spinos and Autumn Toki.
Listen to part of Brett's speech.
Congratulations to all the scholar-athletes!
Thank you to Daily American!